Africa
Obama lands in Pretoria, US flags burnt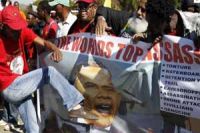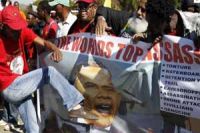 Hundreds of people have held a demonstration in the South African executive capital Pretoria to protest against Washington's "oppressive" policies on the eve of a visit by US President Barack Obama to the African country.
On Friday, hundreds of trade unionists, Muslim activists and South African Communist Party members gathered just few blocks away from the Medi-Clinic Heart Hospital in Pretoria where Nelson Mandela is critically ill.
The protesters marched towards the US Embassy, shouting slogans denouncing Obama's foreign policy as "arrogant and oppressive". They also burnt US flags.
In a car park outside the embassy, Muslim protesters held prayers, and leader Imam Sayeed Mohammed stated, "We hope that Mandela feels better and that Obama can learn from him."
The US president landed at a military airbase near Pretoria on Friday evening for a visit that will pay homage to a man he calls his "personal hero".
The protesters said Obama, the first African-American president of the United States, should not try to link himself to South Africa's anti-apartheid icon.
During his trip to Johannesburg, Cape Town, and Pretoria, Obama is scheduled to visit Robben Island, where Mandela was imprisoned for 18 years of the 27 years he spent in prisons during the apartheid era.