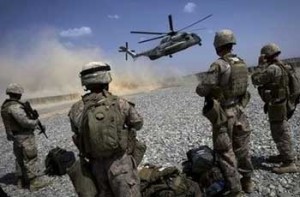 As the Afghan war is stretching into its ninth year, a new report says President Barack Obama would send 34,000 more US troops to the war-ravaged country next year.
Administration and military officials told the McClatchy newspaper that President Obama may not announce the surge until after he consults with key allies and completes a trip to Asia later this month.
The officials who spoke on condition of anonymity said the president's current plan would require 23,000 soldiers from Fort Campbell and Fort Drum. An additional 7,000 would also support a division headquarters in Kandahar.
Some 4,000 additional US trainers are likely to be sent as well, the officials added.
The first additional combat brigade would probably arrive in Afghanistan next March, with the other three following at roughly three-month intervals.
The Pentagon predicts the possible troop surge will cost up to $20 billion per year, breaking down to some $500,000 per soldier annually.
The officials also noted that Obama's decision is not final and will not take place until administration officials discuss it with NATO allies at a Nov. 23 meeting of the alliance's North Atlantic Council and its Military Committee.
There are currently 67,000 US troops and 42,000 troops from other countries in Afghanistan.