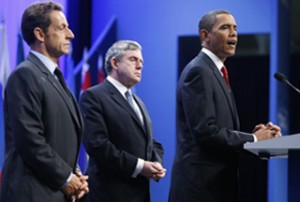 US President Barack Obama says the door is still open for Iran to accept the IAEA-backed proposal on a nuclear fuel deal but warned of "consequences" if Tehran does not change its mind.
The mid-October nuclear draft discussed in Vienna envisages Iran shipping out its low-enriched uranium (LEU) to be further enriched and returned to the country for the Tehran medical research reactor. The idea was first floated by the Obama administration.
Iranian Foreign Minister Manouchehr Mottaki announced on Wednesday that Iran would not send its enriched uranium abroad to be further processed for Tehran's reactor. He said Iran was instead considering swapping the uranium on its soil.
"Iran will not send its 3.5-percent-enriched uranium out of the country," ISNA quoted Mottaki as saying. "That means we are considering exchanging the enriched uranium inside Iran."
President Obama on Thursday reacted to Iran's announcement, saying Tehran still had time to accept the draft deal but simultaneously warned that "consequences" may await Iran should it reject the proposal.
"Our expectations are that over the next several weeks we will be developing a package of potential steps that we could take that will indicate our seriousness to Iran," Obama said.
Mottaki also said that Iran prefers to domestically enrich uranium to 20 percent, or buy the 20-percent-enriched uranium that it needs rather than exchanging its LEU with fuel rods.
"However, since they were insisting on the exchange, we decided to open a window of opportunity and study different aspects of this possibility… But since their estimate about the amount of fuel to be exchanged runs counter to that of our experts, technical examinations are still ongoing," he added.
"We have called for the Vienna technical commission to be established again so that we can present our viewpoints. The commission has yet to be established," he noted.
Iran has called for modifications to the deal, reiterating that its "economic and technical" concerns have to be reserved regarding the proposal.
The US says no alteration will be made to the draft deal, insisting that Iran should accept the deal unchanged.
Western countries have hinted that further sanctions may await Iran should it turn down the proposal.