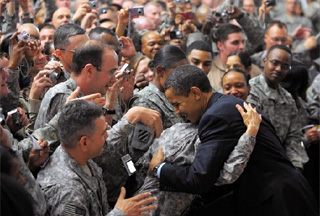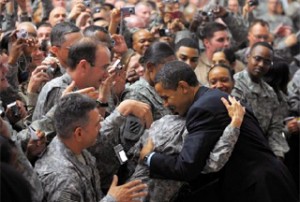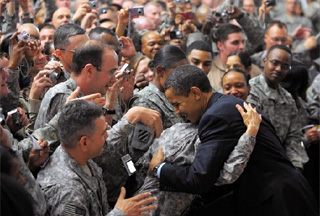 US President Barack Obama is to publicly announce within hours the deployment of 34,000 additional American troops in Afghanistan.
The troops would leave for Afghanistan in January, reported the prominent American daily the Washington Post, citing US officials and diplomatic sources.
The commander-in-chief has devised a six-month timetable for the surge, said a US official on Tuesday on condition of anonymity, the AFP news agency reported.
Obama is to make the impatiently-awaited decision public later in the day, when he will depict a new strategic outline.
The troops are reportedly to be joined by 5,000 to 10,000 international soldiers whom Obama has asked the US allies to contribute.
The total of the extra troops satisfies the 40,000 benchmark set earlier in the year by General Stanley McChrystal, commander of the US-led forces in the war-ravaged country.
McChrystal had said that the war was bound to fail should the operations proceed with the present troop levels.
There are currently around 110,000 American and other foreign soldiers deployed in Afghanistan under the US command.
Leading its allies, the United States invaded the violence-hit country in 2001, accusing the Taliban militants of supporting al-Qaeda, which the US officials blame for the September 11, 2001 attacks, and to "bring an end to the suffering of the Afghan people".
Afghanistan is nevertheless grappling with nine-year-high violence. Many thousands of Afghan civilians have died in the crossfire between the US-led forces and the Taliban or as a result of miscalculated attacks on alleged militant lairs.
The official, reporting on the upcoming announcement, said, however, that Obama had envisioned a shorter mission for the auxiliary forces, adding that the president would insist a "back-end" to the new deployment.
The Post also quoted officials as saying that there were rooms for cancellation or postponement of the deployment "depending on the performance of the Afghan government and other factors."