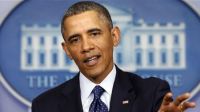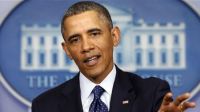 US President Barack Obama has warned about the economic consequences of a government shutdown after the US Senate rejected conditions that House Republicans attached to a temporary spending bill.
Obama told reporters on Monday "You can't shut it down."
Obama said the shutdown will have "a very real economic impact on real people right away."
Speaking at the White House, the president also called on House Republicans to pass an eleventh-hour measure to avert a shutdown.
Obama said lawmakers should "sit down in good faith without threatening to harm women and veterans and children with a government shutdown, and certainly we can't have any kind of meaningful negotiations under the cloud of potential default."
Obama said a shutdown can be prevented if Republicans agree to pass the Senate's version of a funding bill before midnight tonight.