Syria
Official: Aleppo Victories Prelude to Greater Triumph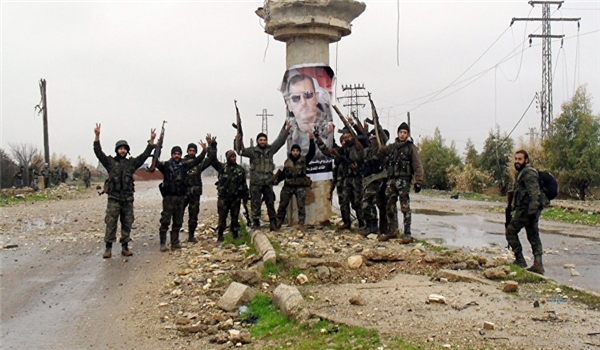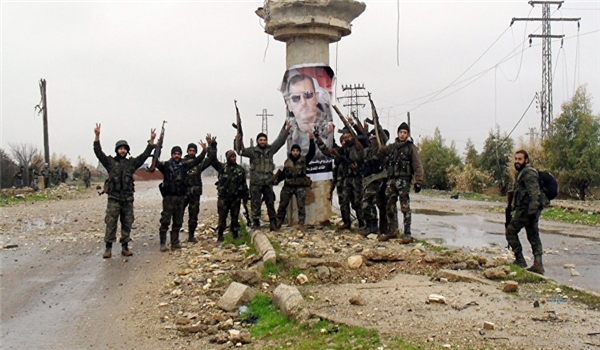 A senior Syrian government official underlined that the recent gains of the Syrian army and the popular forces in Aleppo province will soon give rise to a major triumph for the Damascus government.
"The recent wins of the Syrian army (and popular forces) in Aleppo province are an introduction to a final triumph in all battlefronts with the Takfiri enemy," Syrian Deputy Economy Minister Hayan Salman told FNA on Tuesday.
Salman, meantime, pointed to Saudi Arabia's declared intention for military intervention in Syria, and said, "If Saudi Arabia dares to send soldiers to Syria, it will receive the crushing response of the Syrian army and nation and the kingdom should then expect its soldiers to return home in coffins."
He underlined that even if Saudi Arabia dares to dispatch troops to Syria, its forces won't be from its own army, but some mercenaries from Africa, such as Sudan, in Saudi army uniforms.
On Monday night, Kurdish forces known as the YPG, who have recently bonded with the government, prevailed over the terrorists in the highly strategic city of Tel Rifat in Northern Aleppo and captured the city.
The People's Protection Units (YPG) who enjoyed the Russian air backup prevailed the terrorists' positions from the Western direction and shook hand with other Kurdish troops who entered the town from the North.
The YPG Kurds have recently bonded with the Damascus government. The Syrian army sent several arms cargoes to the YPG troops in the Northeastern province of Hasaka and trained the first group of Kurdish volunteer forces in the provincial capital city of Hasaka last week.
FNA battlefield dispatches said Monday night that heavy clashes are underway on the Eastern outskirts of the city as Ahrar al-Sham terrorists and groups of Al-Nusra Front – that have just arrived in Northern Aleppo via the Turkish territories – are retreating from their positions.
Then on Tuesday the YPG continued to advance against the militant groups in areas near Tal Rifat and won back five more villages after killing a top militant commander.
"The Kurdish fighters drove the militant groups back from their positions in the villages of Ahras, Ein Daqnah, Sheikh Halal, Masqan, Sawama'a Jabraein and Kafar Naya after pushing the terrorists back from Tel Rifat in Northern Aleppo province last night," sources said.
Also on Monday, the army units took full control of al-Tayyeba village and its surrounding farms.
Early in February, the Saudi Defense Ministry said it stood ready to deploy ground troops to Syria to allegedly aid the US-led anti-ISIL, also known as Daesh, coalition.
Riyadh has been a member of the US-led coalition that has been launching airstrikes against Daesh in Syria since September 2014, without the permission of Damascus or the United Nations. In December 2015, Saudi Arabia started its own Muslim 34-nation coalition to allegedly fight Islamic extremism.
Daesh or ISIL/ISIS is a Wahhabi group mentored by Saudi Arabia and has been blacklisted as a terrorist group everywhere in the world, including the United States and Russia, but Saudi Arabia.
Damascus, Tehran and Moscow have issued stern warnings to Riyadh, stressing that the Saudi intruders, who in fact intend to rescue the terrorists that are sustaining heavy defeats these days, will be crushed in Syria.
Syrian Foreign Minister Walid Muallem warned that any ground operation in Syria without Damascus' approval is an "act of aggression", warning that the Saudi aggressors "would go back home in coffins".
In Tehran, Commander of the Islamic Revolution Guards Corps (IRGC) Major General Mohammad Ali Jafari said Saudi Arabia doesn't have the guts to send its armed forces to Syria.
"They claim they will send troops (to Syria) but I don't think they will dare do so. They have a classic army and history tells us such armies stand no chance in fighting irregular resistance forces," Jafari said.
"This will be like a coup de grâce for them. Apparently, they see no other way but this, and if this is the case, then their fate is sealed," he added.
Jafari, said this is just cheap talks, but Iran welcomes the Saudi decision if they decide to walk on this path.