Economy
Iran
Middle East
Official derides US sanctions on Iran petrochemicals
The CEO of Iran's National Petrochemical Company has shrugged off US sanctions on the country's largest and most profitable petrochemical group, saying they will not impact the industry.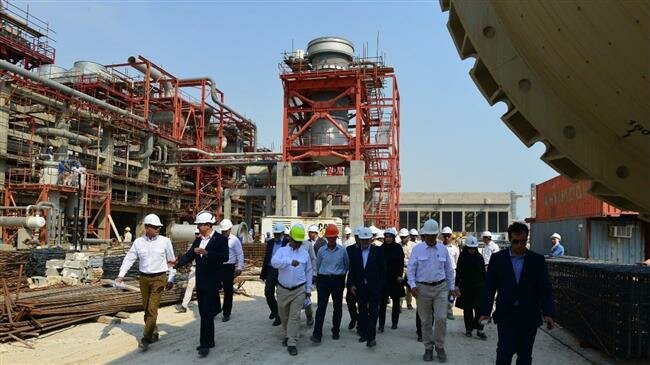 "The newly-announced US embargo will have no effect on the production and sale of Iranian petrochemicals," Behzad Mohammadi told reporters on the sidelines of a ceremony to sign an industrial development agreement.
"The petrochemical industry has been grappling with sanctions for many years, and in this situation, we are looking to develop this industry," Tasnim news agency quoted him as saying.
Last week, the US Treasury Department said it had hit Iran's Persian Gulf Petrochemical Industries Company (PGPIC) with economic sanctions due to its ties with the Islamic Revolution Guards Corps (IRGC).
The IRGC, founded in 1979 after the Islamic Revolution, is tasked with defending Iran against threats, but its civilian branch has been playing a key role in the country's development projects as a strategic partner in many fields.
The Treasury said in a statement that its sanctions aim to choke off financing to the PGPIC and extends to its 39 subsidiaries and "foreign-based sales agents".
The PGPIC group, it said, holds 40 percent of Iran's total petrochemical production capacity and is responsible for 50% of the country's petrochemical exports.
Washington is trying to stop Iran's petrochemical, steel and copper exports, and to disrupt its ports and shipping services.
Iran scoffs at US as $1.85 billion worth of projects openPresident Hassan Rouhani attends the opening of three projects about to add 3.4 million metric tons per year to Iran's petrochemical capacity.
Mohammadi said, "Sanctions against Iran's petrochemical industry are not a new thing, because we have been struggling with these issues for many years, and have still been able to build an appropriate production and sale basis."
On Tuesday, Iranian media outlets said the country is pressing ahead with building its third petrochemical hub which will have such capacities as power generation, water production, petroleum refining as well as steel and aluminum production.
The hub, being branded as Iran's second Assaluyeh, will be established in Hormozgan province, facing Oman and the UAE across the Persian Gulf, with a capacity to produce 15-18 million tonnes of petrochemicals a year.
"We will use the internal capacity to attract the private sector's investment in the form of BOO to expand the region," head of Iran's state-owned mines and metal holding company IMIDRO Khodadad Gharibpour said.
In September, Iran brought online 3.4 million metric tons per year (mt/y) of new methanol, urea and ammonia capacity at a cost of $1.85 billion.
In the petrochemical sector, the country is seeking to build 25 projects which are estimated to require $32 billion in foreign investment. The projects range from ammonia and urea to gas-to-olefins (GTO) and gas-to-propylene (GTP) plants.