General
Official: Iran Boasting Technologic Advancements in Satellite Making
Head of Iran's Space Research Center (ISRC) Hossein Samimi said on Saturday that his country has acquired the technology needed for designing and manufacturing space engines, which is a major breakthrough for Tehran which is under the US unilateral sanctions on its peaceful space program.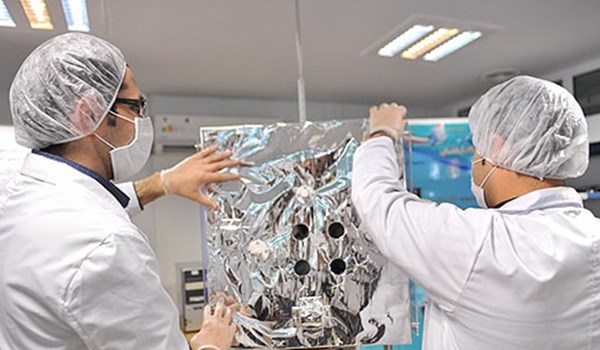 "Iran has achieved the knowledge of building space engines; such engines were formerly built only by the US," Samimi said today.
He said the new achievement includes the design and development of various versions of "Arash space engine" the first sample of which was tested successfully late 2019.
Referring to the rapid developments of the country's space sector, Samimi noted that "space engines were not needed before because the Iranian satellites were put into the low orbit in the past; however, now that we are seeking to send satellites into the high orbit, we need such engines."
"Arash space engine will be put in the orbital transfer system to help thrust satellites from the low orbit into the high orbit."
In January 2019, the domestically-built Payam (Message) satellite was launched into space with an aim to collect environmental information; however, technical problems that occurred during the final stage of the launch prevented the spacecraft from reaching orbit.
Iran's indigenous satellite launch capabilities first made headlines when the first locally-built satellite, Omid (Hope), was launched in 2009.
The country also sent its first bio-capsule containing living creatures into space in February 2010, using a Kavoshgar-3 (Explorer-3) carrier.
In February 2015, the Islamic Republic placed its domestically-made Fajr (Dawn) satellite into orbit, which is capable of taking and transmitting high-quality photos to stations on Earth.
Iran considers its space program a matter of national pride, and has said its space vehicle launches are for scientific purposes.
Last month, Head ISA Morteza Barari said that his country is holding negotiations with a country with advanced space technology to jointly send scientist astronauts to space.
Barari said that the ISA has commenced plans for cooperation with what he called an 'advanced country' to send scientist astronauts to space.
"The talks are underway, and we hope to reach an agreement with one of the countries to commence the project."
Barari declined to name the country with which the ISA is in talks about the project before the talks have been finalized.
"With the cooperation of this country, we are aiming to send a scientist-astronaut instead of a space tourist. Our goal is to participate in international projects; that is, to have an Iranian scientist present in the Earth's orbit or a space station to take part in international research projects," he added.
"The process of talks must be carried out fully. Once done, we will announce the schedule for the implementation of the project in the near future," he said.
The Iranian scientists have in recent years made astonishing progress in development of the country's space program.