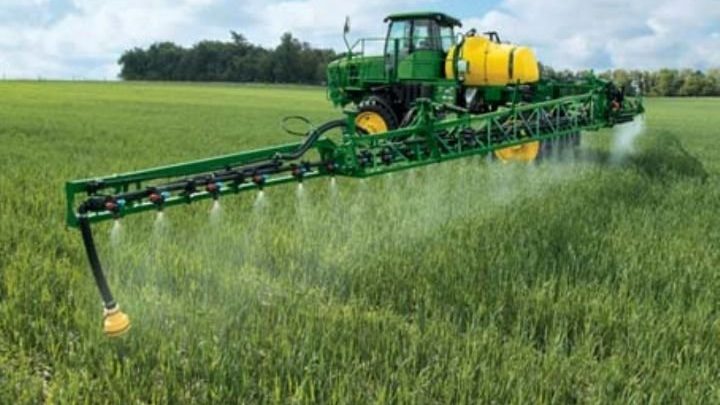 Iran is enjoying significant rise in its agricultural output despite all speculations that the US unilateral sanctions could have endangered food security in the country, as an official of the Agriculture Ministry said that the growth is thanks to the country's $720 million investment on machinery and technology over the past 6 years.
Head of Mechanization Department at Iran's Ministry of Agriculture Kambiz Abbasi said on Saturday that output in the farming sector had significantly improved over the past years mainly due to the modernization of the equipment used in the sector.
Abbasi described as "unprecedented" the size of the investment dedicated to mechanized agriculture since 2013, when the current administrative government took office for a first time.
He said a main part of the investment had gone to modern seed drills and harvesting machines, leading to lower wastage in the farms.
The official added that use of agricultural drones, used for spraying pesticides and fertilizers and monitoring the crops, had picked up significantly in farms across Iran.
Abbasi said the accelerated wave of mechanization in Iran's farming sector had come despite US sanctions that had restricted the country's access to modern agriculture machinery.
He said banks across Iran had granted over $500 million in loans for purchase of agriculture machinery over the past six years, adding that farmers were becoming increasingly interested in mechanized processes to increase productivity in their farms.
Iran has reported increased output in main fields of agriculture despite sanctions imposed by the United States which some believed could threaten food security in the country.
The government has reported a significant surge in exports of farming products as sanctions that began in November caused the national currency rial to devaluate, helping farmers to find new markets for their products across the borders.
Washington's unilateral sanctions against Tehran began in November 2018, five months after US President Donald Trump withdrew from an international deal on Iran's nuclear program.
Claiming that the bans were working properly, Trump tightened them in May, only to see that Iran was finding new solutions to recoup the losses.
Since early in July, Iran's national currency rial has regained some of its lost value, currently trading at 116,000 against the US dollar, and significantly up from historic lows of 190,000 in September 2018.
Inflation for staples, medicine and basic goods declined in August, according to the SCI's Saturday statement, with 56.6 and 35.2 percent for food and non-food items, respectively.
Last month, Iranian First Vice-President Eshaq Jahangiri underscored that the measures and plots hatched by Washington to lead Iran's economy into collapse have all failed.
"We have been able to defeat the US plots with the strategy of resistance," Jahangiri said, addressing a ceremony in the Northern city of Noshahr.
"The US threatens the foreign governments and companies (not to cooperate with Iran) but it has not been able to attain its most important goal, that is the collapse of Iran's economy," he added.
In relevant remarks in July, Jahangiri stressed that his country's economy had remained stable one year after the US imposed the toughest embargos against Tehran.
"The US imagines that it can zero down our oil sales by exerting pressure on the countries which purchase Iran's oil to lead Iran's economy towards a collapse, but fortunately, the situation of Iran's economy enjoys an acceptable stability one year after the US oil sanctions," Jahangiri said in a meeting with Head of the International Liaison Department of the Communist Party of China Song Tao in Tehran.
He described China as the main economic partner of Iran and oil customer, and said, "All high-ranking Iranian officials have put the strategy to develop ties with China on their agenda as a serious mechanism."