Economy
Iran
Middle East
Official: Iran to announce discovery of new oil field soon
The National Iranian Oil Company (NIOC) expects to announce the discovery of a new oil field in Khuzestan province before the end of the current Persian year in March 2020, a NIOC official says.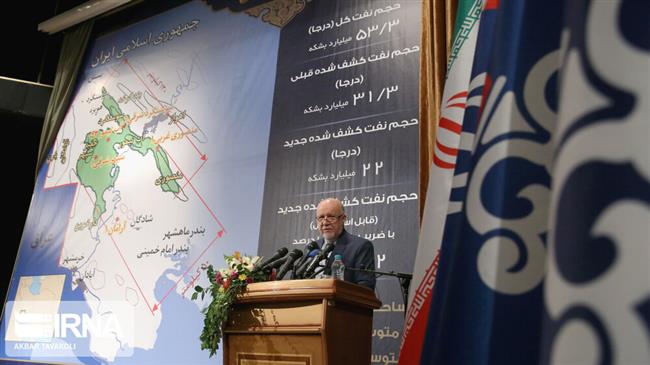 It would be the second major oil field after NIOC announced the discovery of Namavaran oil field last month.
"Based on researches and reports, the site of another oil field similar to Namavaran will be identified in Khuzestan by the end of the year" on March 21, director of NIOC's exploration department Saleh Hendi said on Tuesday.
Namavaran discovered by Iranian experts is the country's second largest reservoir, containing an estimated 53 billion barrels of reserves, Minister of Petroleum Bijan Zangeneh said last month. Iran's largest oil field contains 65 billion barrels and is located in Ahvaz.
The newly-discovered field adds 22.2 billion barrels to the country's estimated crude reserves estimated by the Oil & Gas Journal at 158 billion barrels .
In October, NIOC said it had discovered a massive onshore gas field in the country's south after a year of exploration.
Iran finds massive onshore gas field in south: ReportIran has struck an onshore gas gusher in the country's south, estimated to house enough energy to power homes in Tehran of 12 million people for 16 years, Fars news agency says.
The site is estimated to house enough energy to power all homes in Tehran – a city of more than 12 million people – for 16 years, reports said at the time.
The reservoir was found in the Ilam and Gurpi formations which are extended in the provinces of Khuzestan, Lorestan and Fars.
The Gurpi Formation is one of the most important lithostratigraphic units in the Zagros foreland basin because of its significance in the petroleum geology of Iran as the source rock.
Iranian officials have said the country is pressing ahead with its energy development plans despite intensified US sanctions which seek to cripple the country.
Iran finds new oil, gas reserves, searches for moreA senior official says preliminary studies show the existence of oil reservoirs in East Azarbaijan Province in northwest Iran.
Hendi said on Tuesday NIOC had defined 12 projects in oil- and gas-bearing zones across the country. "Oil and gas is likely to be discovered in these 12 projects, of which five are in priority for implementation and seven others are under study," he said.
Last December, Hendi said some 35-40 new hydrocarbon reservoirs had been discovered across Iran, which needed development. "We are now ranked first in the world for oil and gas reserves," he said.
Hendi also said Iran was scouring 60 percent of its total area for new oil and gas reserves, including in places which were deemed until recently the least likely to have hydrocarbon-bearing formations.
On Tuesday, he said Iran has enough oil and gas for the next 100 years.