Iran
Official Reiterates Iran's Resolve to Sue Drunk Saudi Diplomat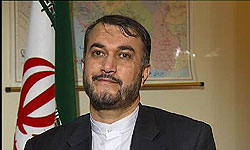 A senior Iranian foreign ministry official said that Tehran is resolved to pursue the case of the death of an Iranian national by a drunken Saudi diplomat.
"This issue is being pursued in its diplomatic path," Deputy Foreign Minister for Arab and Africa Affairs Hossein Amir Abdollahian said on Thursday.
"We will not let some people by abusing their diplomatic immunity to endanger the lives and rights of our citizens," he added.
Earlier, the Iranian foreign ministry protested at Riyadh over the recent deadly car crash caused by a drunk Saudi diplomat in the Iranian capital city of Tehran.
On March 14, a drunk Saudi Embassy staffer killed an Iranian driver and injured a passer-by in a car accident in Tehran.
Four bottles of alcoholic beverage have been found in the Saudi Embassy employee's car. Police were present at the scene and started an investigation into the case.
In a statement on Tuesday, Iranian Foreign Ministry Spokesman Ramin Mehman-Parast said that the ministry is following up on the recent deadly car crash through judicial and diplomatic channels.