Iraq
North America
Syria
Official Reveals US Assistance to ISIL Terrorists in Iraq-Syria Border Desert
A senior Iraqi official warned that the ISIL terrorists are being supported by the US in the Western deserts of al-Anbar along the border with Syria.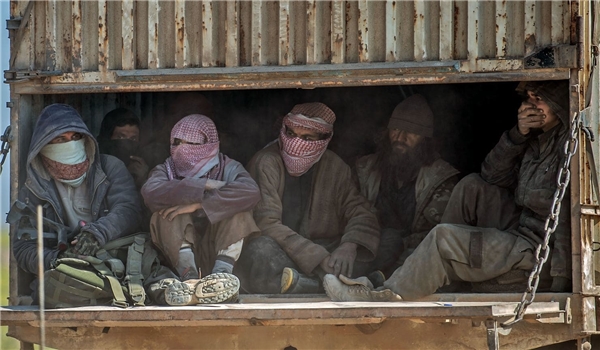 "The US is increasing its forces in al-Anbar and monitors the bordering line between Iraq and Syria," Head of Badr Organization's Office in al-Anbar Qusai al-Anbari told the Arabic-language al-Ma'aloumeh news website on Thursday.
He added that the US is attempting to transfer the largest-ever number of ISIL terrorists into Iraq, adding that the militants are supported by Washington in the desert areas of al-Anbar after arriving from Syria through US heliborne operations.
Al-Anbari warned that certain Iraqi sides are also attempting to facilitate the ISIL traffic into Iraq's Western deserts in support of terrorism following a clandestine agreement with the Americans.
Al-Anbari had also cautioned in April that the US stationed 700 ISIL terrorists in Western al-Anbar to target the Iraqi security forces.
He said that the US military men stationed in occupied bases in al-Anbar province used the ISIL terrorists in disguise of ordinary people to target the Iraqi forces in desert areas of the region.
Al-Anbari was quoted by al-Ma'aloumeh as saying that the US forces deployed in Ein al-Assad and al-Habaniyeh bases in al-Anbar deserts in Western Iraq were using a new method to attack the Iraqi security forces.
He added that they disguise the ISIL terrorists as shepherds and tribesmen to launch on against the Iraqi security forces, Hashd al-Shaabi and civilians in al-Anbar desert.
Al-Anbari said that the US forces have even prepared livestock for the ISIL terrorists to disguise them as shepherds.