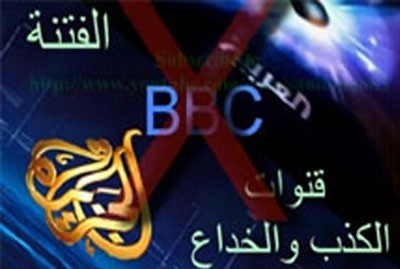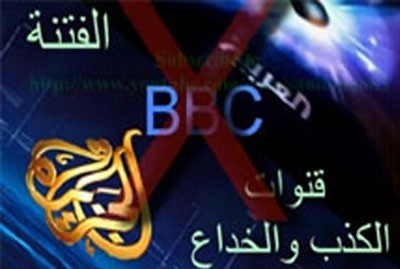 An official source in Hama stated that the false confessions broadcast by al-Jazeera satellite channel which showed the kidnapped Attorney General of Hama, Adnan Bakkour, telling lies about completely false practices are fabrications hatched by US, Israel- Backed armed terrorist groups who kidnapped him three days ago and forced him to say these lies at gunpoint.
The source added that this piece of news is another dirty game by al-Jazeera which exerts all possible efforts to mislead the public opinion and to obtain false statements by important figures in the Syrian society which is considered a clear participation in the events and maybe through coordinating with the kidnappers themselves.
The source said "al-Jazeera channel started to adopt this style with the aim of undermining the sovereignty of Syria and its people," stressing that the Syrians are not astonished at broadcasting these fabrications which al-Jazeera has always been known for.
The source indicated that from the beginning of this ugly crime, the local mass media broadcasted the news of kidnapping the Attorney General along with his driver and bodyguard upon arriving to Karnaz village while he was heading for his work at Hama Justice Palace last Monday.
Driver and Bodyguard of Hama Attorney General Narrate Details about Kidnapping Him
Driver and Bodyguard of Hama Attorney General, Adnan Bakkour, narrated the details of kidnapping him which proves that the video broadcasted by al-Jazeera satellite channel is another fabrication hatched by armed terrorist groups who are financed and supported by US, Zionist Israel and their regional allies.
Bakkour's Driver, Bahaa al-Yousef, said "last Monday on August 29th while we were heading to Hama Justice Palace, a terrorist group encompassing seven members intercepted us with Kalashnikov rifles and they forced the Attorney General to go with them in a microbus and one of them took his car and they headed for unknown destination."
Al- al-Yousef added "We immediately tried to make phone calls, but the network was busy, and we were not able to phone anyone until we reached Hama City on one of the public buses and we told Hama Chief Prosecutors about what happened and they informed the competent authorities.
Bodyguard of Hama Attorney General, Mohammad Fatrawi said "Upon arriving to Karnaz village, a terrorist group intercepted us and kidnapped the Attorney General."
Relatives of Colonel Mohammed al-Sahou Stress that He Died of Natural Causes
In Deir Ezzor, relatives of Colonel, Mohammed al-Sahou, stressed that he died due to a heart attack and that his body is intact, affirming that they categorically reject exploiting his death by al- Arabiya satellite channel which alleged that he was killed after his defection from the army.
Cousin of al-Sahou, Asmar al-Sahou said that the body of Mohammad was intact when it was brought from the Military Hospital and when it was washed and he died of natural causes, adding that Mohammad talked on phone with two of his cousins at 02:30 am before he died and he talked with his daughter at 03:30 am.
Al-Sahou's son, Qasem al-Sahou, said that the body of his father is intact and he is sure of that as he saw the body.
Lawyer, Ibrahim al-Baghdadi, said that he headed to Deir Ezzor Military Hospital when he knew about al-Sahou's death and the Attorney General and the Chief Prosecutor were their and he asked for examining the body by three specialized doctors.
He added that the doctors examined the whole body and they found that the cause of the death was a heart attack and that al-Sahou died in less than 12 hours.