Economy
Official: Value of Iran-Armenia Trade Balance Hits $293mln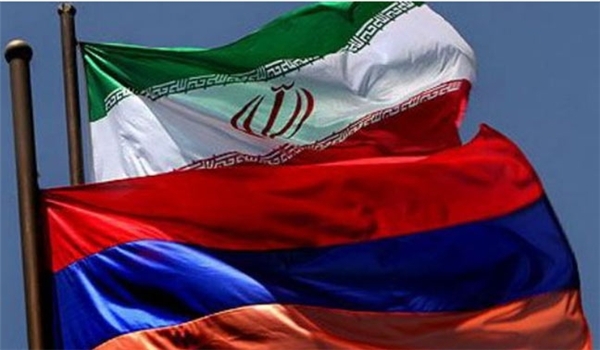 The trade balance between Iran and Armenia witnessed an eye-catching growth last year, a senior trade official announced.
"The trade turnover between the two neighboring countries totaled USD 293 million in 2013," Iranian Cultural Attaché to Yerevan Hamaiak Avandis Yanes said on Thursday.
He noted that Iran exported USD 198 million worth of goods to its Northern neighbor in 2013, and said, "Iran imported USD 95 worth of goods to Iran."
Yanes said that Iran had a positive trade balance of $103 million with Armenia.
Earlier this month, Armenian Ambassador to Iran Grigor Arakelian underlined abundant commonalities of the two nations, and said the ground is prepared for the further expansion of economic relations between Tehran and Yerevan.
"The opportunities for presence of foreign investors, particularly Armenians, have risen as a result of the new Iranian government's policies," Arakelian said in a meeting attended by 12 representatives of foreign countries in Salafchagan Special Economic Zone in Qom province.
Arakelian pointed to Armenia-Iran cordial relations, and said, "The two countries should make use of their potentialities to enhance ties in various sectors."
He noted that Iran and Armenia also enjoy very close cooperation at the international organizations.
In recent years, Iran and its Northern neighbor Armenia have boosted cooperation, signed agreements on energy cooperation and agreed to cooperate in technology and research and enhance ties in commerce and economy.
In August, Iran's President Hassan Rouhani and his Armenian counterpart Serzh Sargsian, in a meeting in Tehran, hailed the friendly relations between the two neighboring states, and called for the expansion of mutual cooperation in all arenas.
During the meeting, the Iranian president said that relations between Iran and Armenia have been friendly based on mutual interests and there is no doubt that the same trend will be continued in future to help enhance the current level of relations and cooperation.
"Iran has always called for expansion of relations and cooperation with Armenia thanks to both sides cultural and civilization commonalities," Rouhani added.
"Armenia at international conferences has always adopted a very close and friendly stand with Iran, which helps meet both sides' interests," Rouhani said.
The Armenian president, for his part, said that Iran and Armenia have kept abreast of developments throughout history and in the past 20 years they developed economic cooperation.
"There is no doubt that ties and cooperation between the two countries will be bolstered in line with the expansion of economic cooperation during the tenure of president Rouhani," he said.
According to the National Iranian Gas Company (NIGC), around 1.5 billion cubic meters of natural gas has been traded with Armenian electricity from 2007 to 2012.