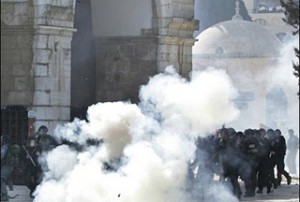 The Organization of the Islamic Conference (OIC) has called for an urgent meeting on Israel's frequent violations against the Al-Aqsa mosque compound in the occupied East Jerusalem Al-Quds.
The world's largest Islamic organization urged UN Security Council and Russia "to request an emergency meeting on Israeli violations of international law in Al-Quds (Jerusalem) … and aggressions against the holy places," AFP reported on Sunday.
The Organization has already cautioned Israel of 'dangerous consequences' for acts of sacrilege in the holy compound emphasizing that any damage to the mosque could lead to "unpredictable consequences" for international peace and security.
The 57-member body condemned Israeli sporadic violations against the holy site which started on September 27 after it closed the compound and deployed thousands of police forces to secure a Jewish religious ceremony in the masque.
Clashes renewed in the holy site last week after Israeli police closed down the site.
Security forces fired stun grenades to disperse crowds of hundreds of Palestinian protesters. Twenty-four Palestinians have been wounded in the clashes in and around the holy compound.