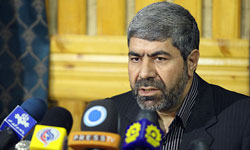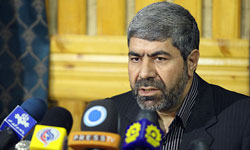 The Organization of the Islamic Cooperation (OIC) is responsible for defending Palestine and the axis of resistance against the Zionist regime, which includes Syria, Head of Quds and Intifada Central Headquarters Ramazan Sharif said Wednesday.
"The OIC's raison d'être is supporting Palestine and its forefront, and its decisions should not violate this," Sharif said at a press conference in Tehran on the occasion of the International Quds Day rallies due to be held on Friday.
The last Friday of the holy month of Ramadan is dubbed as 'the international Quds Day' during which worldwide Muslims stage demonstrations to voice their strong protest and outrage at the occupying regime of Israel.
The International Quds Day was started by the late Founder of the Islamic Republic, Imam Khomeini, as a way of expressing solidarity with the Palestinians and underscoring importance of Quds to Muslims.
Sharif also underlined that the resistance front against the Zionist regime owes much of its success to the Syrian nation and government and due to the same reason, Syria should be defended against enemy plots.
Syria has been experiencing unrest since March 2011 with organized attacks by well-armed gangs against Syrian police forces and border guards being reported across the country.
In October, calm was eventually restored in the Arab state after President Assad started a reform initiative in the country, but Israel, the US and its Arab allies are seeking hard to bring the country into chaos through any possible means. Tel Aviv, Washington and some Arab capitals have been staging various plots in the hope of stirring unrests in Syria once again.
The US and its western and regional allies have long sought to topple Bashar al-Assad and his ruling system. Media reports said that the Syrian rebels and terrorist groups have received significantly more and better weapons in recent weeks, a crime paid for by the Persian Gulf Arab states and coordinated by the United States.