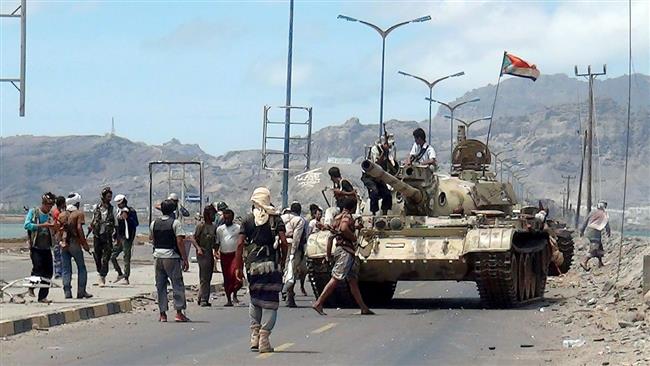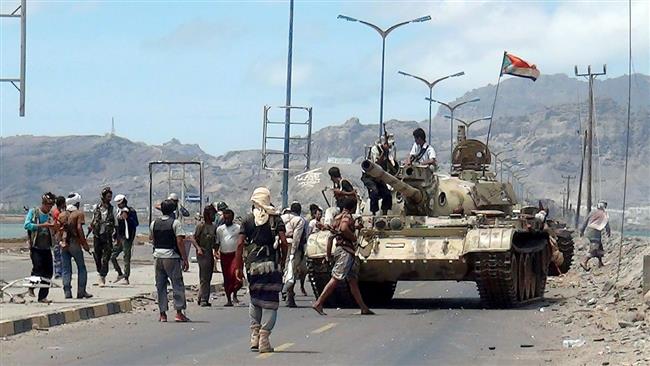 At least one person has been killed and four others wounded after the southwestern Saudi city of Najran, located near the Yemeni border, came under fire, official sources have said, without elaborating on the source of the bombardment.
Tribal forces loyal to the ruling Houthi Ansarullah movement have fired mortars and Katyusha missiles into the southern Saudi territories as they try to respond to six weeks of illegal aggression by Saudi Arabia against the impoverished Arab country, said local sources in northern Yemen on Monday.
Saudi Arabia's General Directorate of Civil Defence later confirmed the death toll, according to a Saudi news website.
Saudi ground forces arriving in Najran
Meanwhile, Saudi media outlets reported that the first column of Saudi tanks and heavy weaponry have already arrived in the border regions near Yemen in Najran province. According to Al Arabiya Hadath TV, the heavy armored equipment has been dispatched to the area based on a decree by Saudi King Salman bin Abdulaziz Al Saud ostensibly aimed at creating bulwarks and fortifications in the region.
The TV channel broadcast pictures Monday showing columns of tanks loaded onto military trucks arriving in Najran to reinforce what it called the "strike force to the border."
The intensified clashes in the Yemen-Saudi border area come as a humanitarian ceasefire is planned to be implemented on Tuesday. Both Riyadh and Houthi officials have accepted the ceasefire.
Saudi warplanes have incessantly pounded Yemen's northern provinces of Sa'ada and Hajjah over the past two days, forcing tens of thousands of people to flee their homes. Dozens of people have been killed in the brutal airstrikes which came after Yemen's tribal forces began shelling Saudis' southern territory.
Yemenis search for survivors under the rubble in houses destroyed by an overnight Saudi air strike on a residential area in Yemen's capital, Sana'a, on May 1, 2015. © AFP
Since earlier Monday, Saudi bombers targeted various parts of Sa'ada more than 20 times, with the exact details of the casualties yet to be known.
Saudi warplanes also continued targeting residential areas across Yemen, with attacks reported in the southern port city of Aden, according to Yemen Press.
Houthis show fuselage of Moroccan jet
Meanwhile, Yemen's al-Masirah TV, the main media outlet run by the Ansarullah movement, has aired the first images of the wreckage of the Moroccan fighter jet downed earlier in the day in Sa'ada province.
The Houthis said the warplane was downed by the tribal forces loyal to Yemen's revolutionary committees. Officials in Morocco, a country which is contributing to Saudi Arabia's illegal aggression again Yemen, had reported earlier that their F-16 jet had gone missing while flying over Sa'ada.
Saudi Arabia started its military aggression against Yemen on March 26 – without a UN mandate – in a bid to undermine the Ansarullah movement, which currently controls the capital Sana'a and other major provinces, and to restore power to Yemen's fugitive former president, Abd Rabbuh Mansour Hadi, who is a staunch ally of Riyadh.
The Saudi military campaign has reportedly claimed the lives of over 1,400 people so far and injured thousands of others. Hundreds of women and children are among the victims, according to the World Health Organization (WHO).
The Al Saud regime has imposed a blockade on the delivery of relief supplies to the war-stricken people of Yemen in defiance of calls by international aid groups.