Iran
One of the main saboteurs of the banking system in Iran was executed on Saturday morning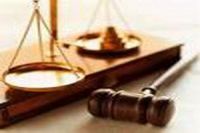 One of the main saboteurs of the banking system in Iran was executed on Saturday morning.
According to the information center of Tehran's public and revolution prosecutor's office, the execution verdict was issued for Meh Afarid Khosravi for her participation in sabotaging the economic system of Iran.
The report added that Meh Afarid Amir Khosravi was also sentenced to connivance and corruption in the banking network and applying fraudulent methods and collaboration in money laundering and bribery.
According to the existing documents of corruption in Iran's banking system, numerous cases of bribery among some of the personnel and managers of banks and a few administrative centers were done by the convict under the guise of different names.
Having passed the legal procedures, the execution verdict was issued and approved by the Supreme Court. The verdict was put into effect on Saturday at Evin prison in Tehran.
The officials of the Islamic Republic have time and again stressed that they will confront economic corruption seriously and decisively.
It should be mentioned that some of the accused of the file who have fled the country are being prosecuted by the Interpol to be returned to Iran for trial.