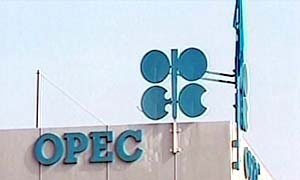 All signs show that OPEC members are most likely to maintain the current output targets when they meet on Tuesday in Luanda, Angola.
Saudi Arabian Oil Minister Ali al-Naimi stressed on Sunday that the price is right and he sees no need for the Organization of the Petroleum Exporting Countries to change supply.
Naimi also told a Saudi newspaper on Friday that the next OPEC meeting on Tuesday would not result in any change in the output ceiling.
Other OPEC ministers similarly took the view they should bond with the same output level in place since last December.
"There will be no change to OPEC supply of crude oil. OPEC will not reduce supply and it will not increase it," Algerian Energy and Mines Minister Chakib Khelil told reporters in Algiers before leaving for Luanda.
"I don't think so," Iraqi Oil Minister Hussain al-Shahristani said Sunday on his arrival in Luanda when asked whether OPEC needed to change its supply level.
Delegates also said the Iranian and Kuwaiti oil ministers would not attend Tuesday's meeting.
Iran's representative to OPEC said earlier in November there is no valid justification for the group to change its oil production targets.
"Considering the current supply and demand situation in the oil market, it is likely that OPEC will maintain the quota at a forthcoming meeting in December, should conditions be met," Iran's OPEC governor Mohammad-Ali Khatibi said.
The producer group has kept official production targets unchanged at meetings this year, after it agreed to curb output by 4.2 million barrels per day last year.
According to the US's EIA forecasts, in 2010 OPEC's oil production will increase to 29.4 million barrels per day based on the underlying assumption of recovery in global demand.
OPEC has called 2009 "one of the worst years" for global oil demand, and expects appetite for crude oil to remain weak throughout the first half of 2010.