Iran
'Outcome of N-talks to be glory for Iran'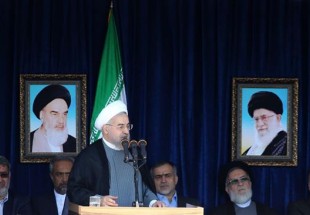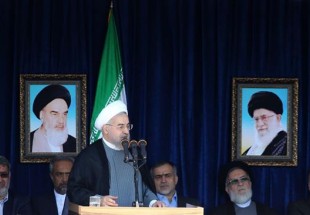 The outcome of the negotiations between Iran and the P5+1 group on the Islamic Republic's nuclear program will be "glory" for the Iranian nation, Iran's President Hassan Rouhani says.
President Rouhani made the remarks while addressing people in the northwestern Iranian city of Tabriz, the capital of East Azerbaijan Province, on Wednesday.
The Iranian people support the nuclear negotiators, Rouhani said, adding, "The end of the negotiations will bring with it glory for the great Iranian nation."
He further stressed that all Iranians wish the success of the nuclear talks between Iran and the six world powers.
"With support from the people, we will be able to bring about victory in the international arena for the Iranian nation," Rouhani added.
Iran and the P5+1 countries – the US, Britain, France, Russia, China and Germany – have been negotiating to reach a comprehensive agreement over Iran's civilian nuclear activities, and have set June 30 as the deadline for the conclusion of the deal.
The sides reached mutual understanding on the parameters of the Joint Comprehensive Plan of Action (JCPOA) – as the potential deal is called – in the Swiss city of Lausanne on April 2.
President Rouhani further said plots by those trying to present a bad image of Iran have failed, stressing, "We are defeating the Iranophobia project in the world."
He also referred to the peaceful nature of the Iranian people, stressing, "We do not intend to attack any country."
However, the president said, if any country intends to take hostile acts against the Iranian nation, it will face a strong response.