Europe
Human Rights
North America
World News
Outrage over brutal police killing of unarmed black man spreads beyond US
Grief and anger over the US police killing of an unarmed black man have spread to several other world countries, where protests have been staged in condemnation of police violence and racial injustice against people of color in America.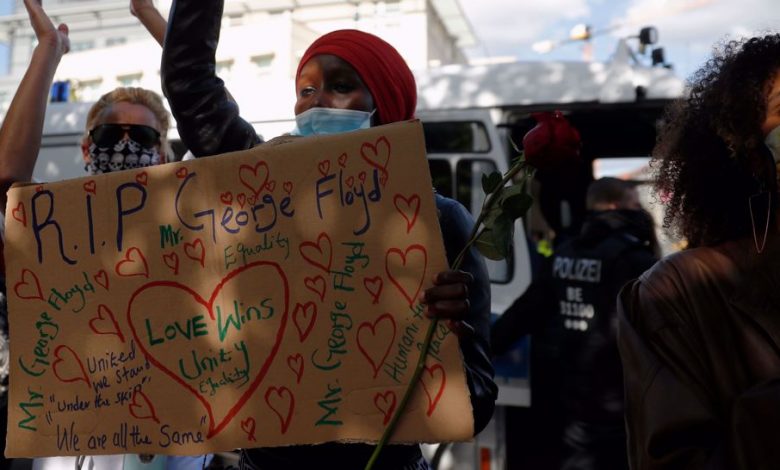 African-American George Floyd, 46, died on the evening of May 25 in Minneapolis lying face down on the street after a white police officer pressed his knee on his neck for almost 9 minutes as he gasped, "Please, I can't breathe."
The incident was caught on video by bystanders and later circulated on social media across the world, triggering angry protests in dozens of US cities including Washington, D.C., New York, Chicago, Philadelphia and Los Angeles.
The brutal killing has also fueled anti-racism protests outside the US in several countries, including the UK, Germany, Italy, Lebanon, Denmark, Canada and Iran.
Europeans march on US missions
In London, British protesters gathered in Trafalgar Square and marched along the Thames towards the US Embassy, chanting "Black Lives Matter" and carrying signs with slogans such as "How Many More?" "Racism is a Global Issue" and "Your Silence Is Deafening."
WATCH: Some pretty big crowds in London marching down Whitehall for #BlackLivesMatterUK protests.

Also a large crowd gathered outside the US embassy. #ICantBreath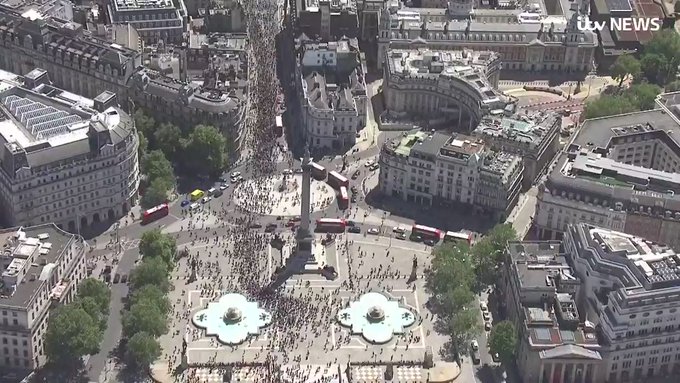 UK Metropolitan Police reported arresting 23 demonstrators in central London on Sunday. Similar demonstrations were held in the cities of Manchester and Cardiff.
The protests defied a ban on mass gatherings as part of measures to contain a coronavirus outbreak.
In the German capital Berlin, protesters gathered on Sunday near the US Embassy chanting "Stop Killing Us," "Black Lives Matter" and "No Justice, No Peace." 
Thousands now chanting "black lives matter" in front of the US Embassy in Berlin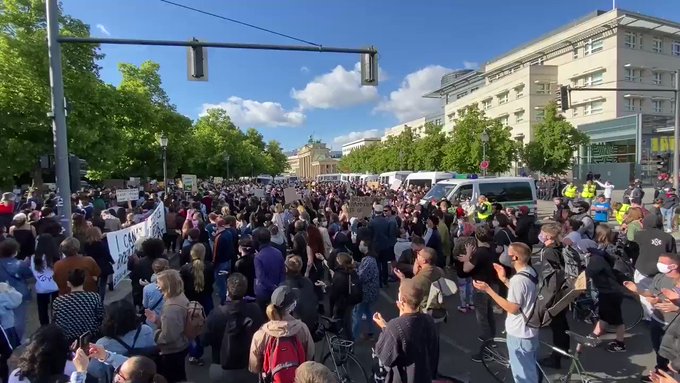 A protest rally was also held in Berlin on Saturday under the motto: "Justice for George Floyd."
Beyond the protests that gathered thousands in Berlin over the weekend, four soccer players in Germany's Bundesliga league addressed Floyd's killing during games.
One player took a knee on the field, while another exposed a shirt underneath a jersey that read "Justice for George Floyd."
In Denmark, protesters similarly converged on the US Embassy in Copenhagen on Sunday, carrying placards with messages such as "Stop Killing Black People."
Italian protesters, too, gathered outside the US Embassy in Milan, with signs that read, "Stop killing black people," "Say his name," and "We will not be silent."
Italy's Corriere della Sera newspaper's senior US correspondent Massimo Gaggi wrote that the reaction to Floyd's killing was "different" from previous cases of African Americans killed by police and the ensuing violence.
"There are exasperated black movements that no longer preach nonviolent resistance," Gaggi wrote.
Canada protest turns violent
The Canadian cities of Toronto and Montreal also witnessed rallies against injustice towards black people in the US and elsewhere in the world.
The Montreal protest degenerated into clashes between police and some demonstrators on Sunday night.
Protests in Middle East
In the Iranian city of Mashhad, a candlelight vigil was held in Floyd's memory.
Also over the weekend, Lebanese protesters flooded social media with tweets sympathetic to US protesters, using the hashtag #Americarevolts.
China, Russia, Iran decry US police violence
In addition to public demonstrations of anger against the killing, several governments have also indicated their protest at the violent racism in America.
China and Russia slammed the US government, accusing Washington of violating the civil rights of its black citizens.
On Sunday, China's Foreign Ministry spokeswoman Hua Chunying took to Twitter to condemn the incident, posting "I can't breathe" – Floyd's last words before his death.
Moscow likewise denounced Floyd's death as the latest in a series of police violence cases against African Americans.
"This incident is far from the first in a series of lawless conduct and unjustified violence from US law enforcement," the Russian Foreign Ministry said in a statement. "American police commit such high-profile crimes all too often.''
Iran, in turn, criticized Washington's heavy-handed crackdown on the protests against, urging the US government to listen to the people instead of using force and violent tactics to break up the gatherings.
The police officer behind the killing of Floyd, Derek Chauvin, 44, has been charged with third-degree murder and second-degree manslaughter.
Floyd's death has given rise to new demands for a revision of the so-called "qualified immunity," which gives government officials immunity from harms caused by their actions under a wide range of circumstances that may happen as they perform their official duties.