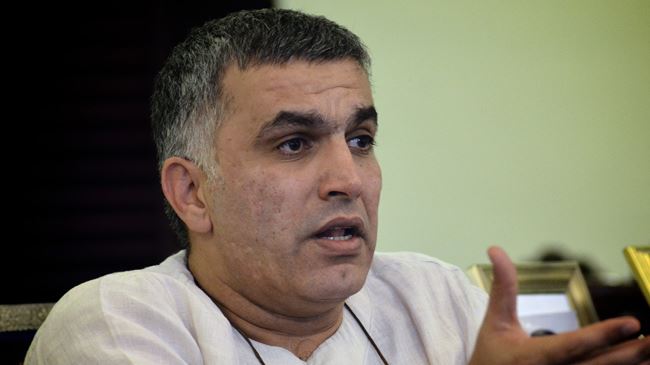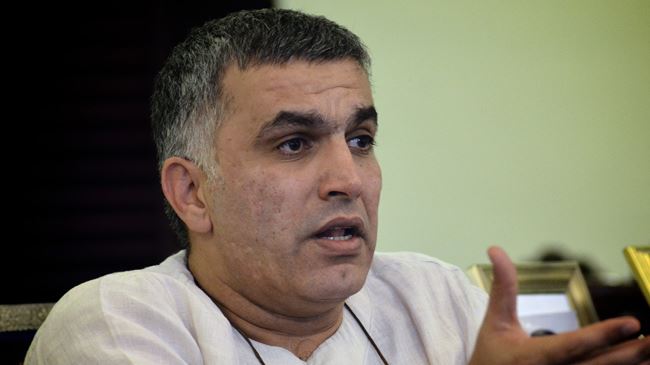 Over a hundred rights organizations have urged the Bahraini regime to release human rights activist Nabeel Rajab.
In a joint statement on Thursday, the rights organizations demanded the "immediate and unconditional" release of Rajab, describing his detention as a serious blow to the freedom of speech in the Persian Gulf kingdom.
The rights groups urged the Bahraini authorities to take all necessary measures to secure the physical and psychological security of prisoners of conscience.
They also called on the United Nations, US administration, and the European governments to push Manama to immediately stop the judicial harassment of human rights defenders and drop all charges against them.
Rajab was arrested earlier this month for posting tweets that Bahrain has described as insulting to the country's authorities. The 49-year old activist is set to be tried on October 19.
Rajab was freed in May after completing a two-year jail term for organizing and participating in anti-regime protests.
Bahrain has been the scene of protests since mid-February 2011. Thousands of pro-democracy protesters have held numerous demonstrations in the streets of the country, calling for the Al Khalifa royal family to relinquish power.
On March 14, 2011, troops from Saudi Arabia and the United Arab Emirates invaded the country to assist the Bahraini government in its crackdown on protesters.
According to local sources, scores of people have been killed during the government's heavy-handed suppression of peaceful protests.