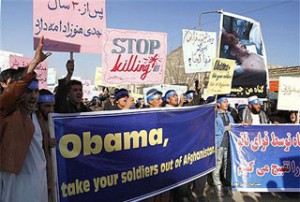 The US-led war in Afghanistan has killed more than 1,440 civilians this year — a figure almost equal to the US-led coalition's overall death toll over eight years of the hostilities.
Afghanistan Independent Human Rights Commission (AIHRC) reported the fatalities, saying that 40 percent of the deaths had been caused by the foreign forces.
Meanwhile, the UN Assistance Mission in Afghanistan (UNAMA) has warned that, compared to last year, the death toll points to a 10.8-percent increase.
Many thousands of the non-combatants have died since the 2001 US-led invasion during the troops exchanges of fire with the Taliban militants or their attacks on alleged militant hideouts — usually carried out based on unconfirmed tip-offs.
This is while,1,560 foreign troops have died since 2001.
In a statement on Monday, Afghan President Hamid Karzai condemned the killing of 10 civilians, including eight school students, by the international forces in the eastern Kunar province a day earlier.
Haji Farid, a lawmaker from the Kapisa province, said "Every time an American soldier gets killed, they bomb an entire village," the BBC Persian reported.
The total mortalities of the coalition forces, meanwhile, have risen from 295 in 2008 to at least 520 last year, rocketing up by more than 70 percent.
A British trooper died in Sangin town in the southern province of Helmand on Friday, taking this year's British mortalities to 108 — twice the number of last year.
Three-hundred and eighteen troopers also died this year from the American contingent, pointing to a two-fold increase in the US death toll compared with 2008.
Unprecedented violence is currently taking its toll on the strife-torn country despite the presence of some 113,000 foreign troops and the prospects of their increase by 38,000 more.
The Afghan police say the government forces cannot enter the northwestern Badghis province due to the extensive Taliban influence, with the militants' dotting the area with explosives.
Five civilians, two women and three men, were reported dead from a roadside bomb in the province on Friday for which the Taliban claimed responsibility.