Syria
Over 120 ISIL Terrorists Killed in Clashes with Syrian Army in Eastern Homs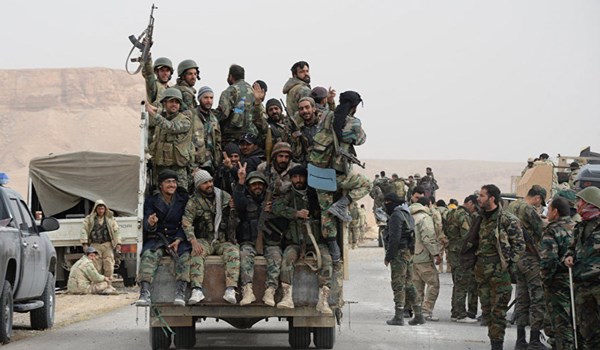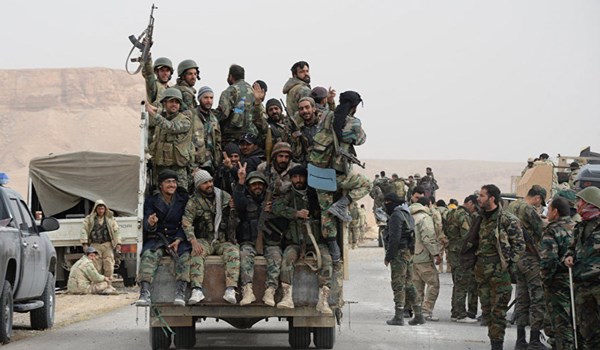 Syrian Army troops engaged in fierce clashes with ISIL in three different points in Eastern Homs, inflicting at least 126 casualties on the militants.
The army men repelled ISIL's attack on their positions Northeast of T4 airbase, killing 70 militants and destroying seven tanks and 12 machinegun-equipped vehicles of the terrorists.
The army soldiers targeted a vehicle of ISIL near the al-Awamid Height close to al-Quaryatayn, leaving 6 terrorists dead.
The army troops, meantime, clashed with ISIL terrorists in another flank near T4 airbase, killing 50 terrorists and destroying three tanks and five vehicles.
The army's artillery and missile unis also shelled the positions of al-Nusra Front (recently renamed to Fatah al-Sham Front) in al-Kan mountain in al-Rastan region in Northern Homs. There is still no report on possible casualties.
The resistance forces also targeted Fatah al-Sham's centers in the village of Sa'an al-Aswad, killing several militants, including their commander Mohammad al-Zahayk Abu Abideh.
Also, the army soldiers repelled terrorists' offensive against their positions on Salamiyah-Homs road on Thursday, and inflicted heavy loss and damage on the ISIL, Fatah al-Sham and Ahrar al-Sham.
After clashes with a terrorist group which had attacked the Salamiyah-Homs road from al-Ameriyeh, the Syrian army units could ward off their offensive and inflicted heavy losses and injuries on them, forcing the remaining militants to flee towards al-Badiyeh (Desert) region.
Also, the army forces targeted the ISIL terrorists with artillery fire in Northern al-Mushrefiyeh region in Eastern Homs which killed most of the militants and smashed their military vehicles.
Also, in Northern Homs, the al-Nusra Front's gathering centers in Tir Ma'alla village came under attack, which destroyed their military vehicles.
The Syrian troops also pounded the bases and supply routes of Ahrar al-Sham terrorists in Um Sharshouh village in Northern Homs with artillery fire, blowing up one of the militants' bases and their military vehicles and killing a large number of them.