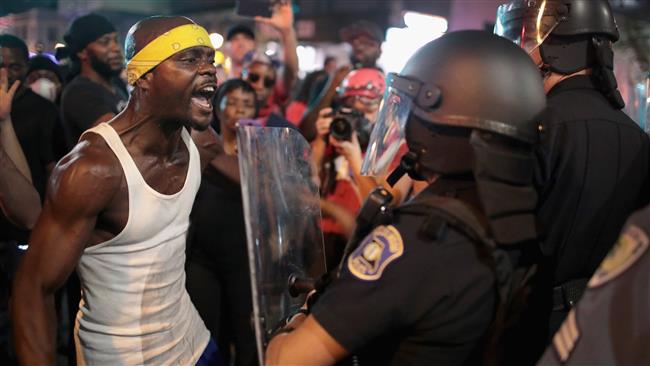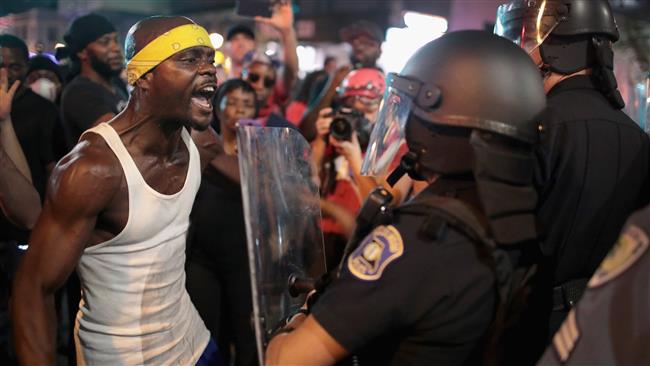 More than 1000 protesters have marched through the streets in St. Louis, Missouri, during the third night of demonstrations over the acquittal of a white policeman who had fatally shot a black man in 2011.
Over 80 people were arrested on Sunday night after the protests turned violent following a larger, peaceful demonstration earlier in the day, according to interim St. Louis Police Chief Lawrence O'Toole.
Police in riot gear tackled some protesters and used pepper spray before starting the mass arrests.
A small group of people remained after nightfall and the scene turned chaotic, following the pattern of Friday and Saturday.
Some protesters attempted to block a ramp to an interstate highway, police and witnesses said.
St. Louis Mayor Lyda Krewson noted at a news conference that "the vast majority of protesters are non-violent," and blamed the trouble on "a group of agitators."
It was the third night of demonstrations that began Friday morning after Jason Stockley, 36, was acquitted in the shooting death of Anthony Lamar Smith, 24.
On Thursday, Judge Timothy Wilson cleared Stockley, who was charged with first-degree murder for killing Smith.
The officer quit the St. Louis Metropolitan Police Department in 2013 and was arrested in May 2016. Stockley was accused of planting a gun in Smith's car but claimed in his testimony that he did this in self-defense.
The violent protest evoked memories of the riots following the 2014 shooting of an African-American teenager by a white officer in nearby Ferguson, Missouri.
US police departments have been under heightened scrutiny in recent years for the disproportionate number of police killings of African Americans.
Numerous demonstrations have been held across the US in recent years following white police officers killing unarmed African-American men, including Michael Brown in Ferguson, Missouri; Tamir Rice in Cleveland, Ohio; Eric Garner in Staten Island, New York and Walter Scott in North Charleston, South Carolina.
At least 1,093 people were killed by police in the US last year, according to the Guardian newspaper's The Counted database.