Over two dozen Daesh hideouts destroyed, 40 villages retaken in west Anbar ops: Official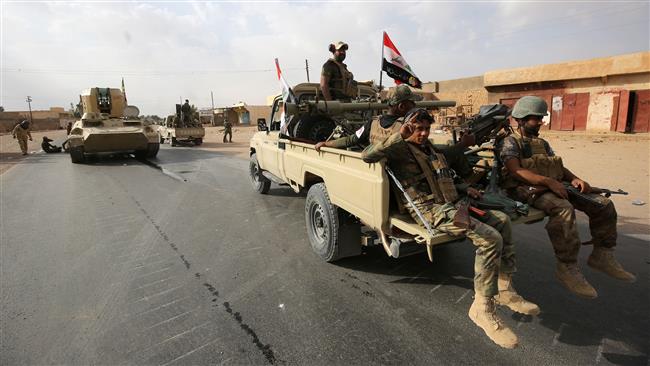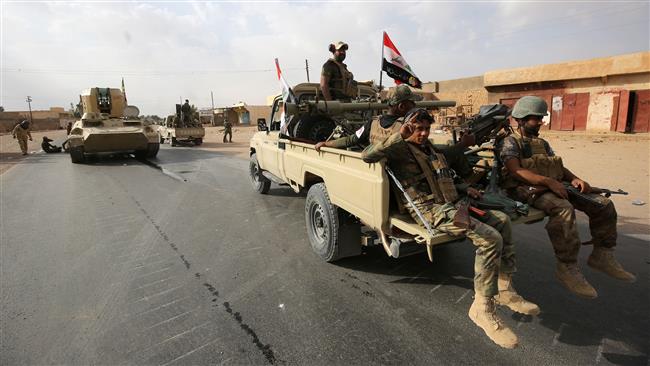 A high-ranking Iraqi military commander says more than two dozen Daesh hideouts have been destroyed and tens of villages liberated ever since army soldiers, backed by allied fighters from the Popular Mobilization Units, launched a multi-pronged operation to retake the last remaining militant bastions in the country's western province of Anbar.
The commander of the west Anbar liberation operation, Lieutenant General Abdul Amir Yarallah, said on Saturday that Iraqi soldiers together with pro-government fighters, commonly known by the Arabic name Hashd al-Sha'abi, had recently managed to regain control over the outskirts of al-Rutbah town as well as al-Sa'adah, al-Karabilah and Husaybah districts, Arabic-language al-Forat television network reported.
Yarallah added that the operations were carried out by the Anbar Operations Command Center, Anbar provincial police force, intelligence agencies operating in the province as well as army and Hashd al-Sha'abi forces.
He further noted that 15 Daesh terrorist positions together with 10 sites, from which the extremists used to launch missile attacks, had been destroyed in the wake of the anti-terror offensives.
The senior Iraqi military official underlined that government forces and their allies had so far liberated 40 villages besides two air bases north and south of al-Rutbah, bringing the total expanse of liberated areas in western Anbar to 20,000 square kilometers.
Meanwhile, the so-called Syrian Observatory for Human Rights and an Iraqi official said clashes had erupted between Hashd al-Sha'abi fighters and Daesh terrorists on the Syrian-Iraqi border.
The Britain-based monitoring group said the skirmishes took place inside Syria near the border city of al-Bukamal.
Jaafar al-Husseini, spokesman for Iraq's Kataeb Hezbollah Brigade, told The Associated Press that his forces engaged in clashes with Daesh extremists from the western Iraqi town of al-Qa'im, located nearly 400 kilometers northwest of the capital Baghdad.
Al-Husseini added that his fellow fighters had built berms along the border to prevent Daesh terrorists from sneaking back.
Late last month, Iraqi Prime Minister Haider al-Abadi formally ordered the launch of operations to purge the towns from Rawah and Qa'im from Daesh terrorists.