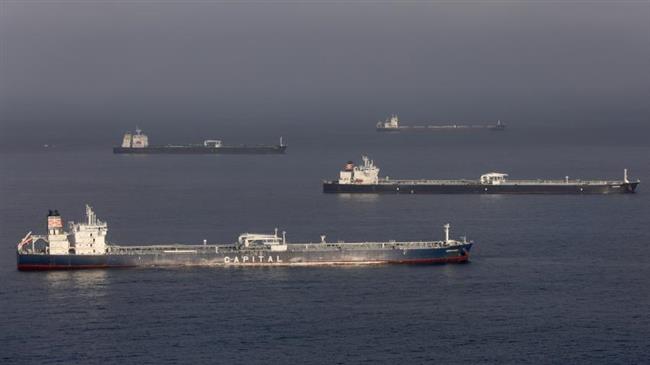 The owners of four cargoes carrying Iranian fuel that was looted in high seas by the United States last month have mounted a legal challenge to reclaim them, a report says.
The US government has said it seized 1.116 million barrels of fuel because it was bound for Venezuela which is under American sanctions as part of Washington's bid to topple President Nicolas Maduro, but the owners have disputed it.
According to a filing with the US District Court for the District of Columbia Tuesday, "at the time they were seized, the Defendant Properties were destined for Trinidad for sale to customers in Peru and Colombia."
When the news of the loot was first broken last month, Iran put down its foot to assert that neither the ships were Iranian nor their owners or their cargo had any connection to the Islamic Republic.
US reports had also claimed that the ships were owned by Greece, but the court filing on Tuesday showed otherwise.
United Arab Emirates-based Mobin International Limited said it was the owner of the cargo aboard the Bella and Bering tankers, UK-registered Oman Fuel said it owned the cargo aboard the Pandi and Luna tankers, and Oman-registered Sohar Fuel said it part-owned the cargo aboard the Luna.
The companies said they had sold the cargoes onwards to UAE-based Citi Energy FZC, but payment was due upon delivery, which was disrupted by the seizure, Reuters reported.
"Therefore, Claimants Mobin, Oman Fuel, and Sohar Fuel retain a financial stake in those agreements and have immediate right to title, possession, and control of the Defendant Properties," they wrote in the filing.
US claim of victory dealt a blow
The legal challenge puts yet another damper on the US government's victory lap which came with the much-hyped claim that Washington had finally found a way to block Iran and Venezuela from evading American economic sanctions.
Over the past two years, the Trump administration has repeatedly placed sanctions on Iran's oil and other lucrative industries with the express aim of shutting Tehran out of global markets and causing an economic collapse.
But far from collapsing as American leaders had predicted, Iran's economy keeps humming and is getting back on its feet.