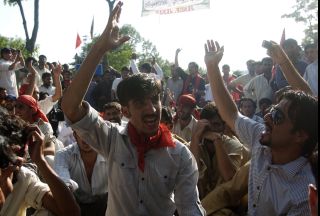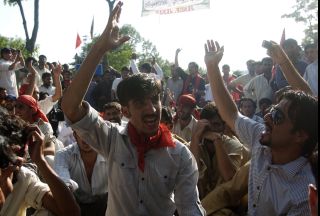 Pakistani Kashmiris have demanded free access to the Indian-administered side if they hold a valid nationality certificate, as the government rejects their demands.
Hundreds of protesters gathered in Titri Note near the Line of Control (LoC) separating the Indian and Pakistani parts of Kashmir, and condemned the restrictions imposed for their free passage to the other side of the LoC.
"People with valid nationality certificates in Indian and Pakistani Kashmir should be allowed to travel freely in both parts of Kashmir," chief of the Jammu and Kashmir National Awami Party, Liaqat Hayat, told AFP.
The demonstrators were stopped from massing at the border as the authorities reason that their policy was to allow only those who have relatives on the other side to cross.
The protesters demand that they should be allowed to roam freely between both parts of Kashmir if they hold a valid nationality certificate.