Asia-Pacific
China
Iran
Middle East
North America
Pakistan
Pakistan, China urge removal of US sanctions amid Iran's fight to defeat epidemic
Pakistan and China have renewed their calls for the lifting of the United States' sanctions to help Iran access and utilize its resources in the fight against the coronavirus pandemic, with Islamabad urging the European Union to help facilitate the removal of the restrictions.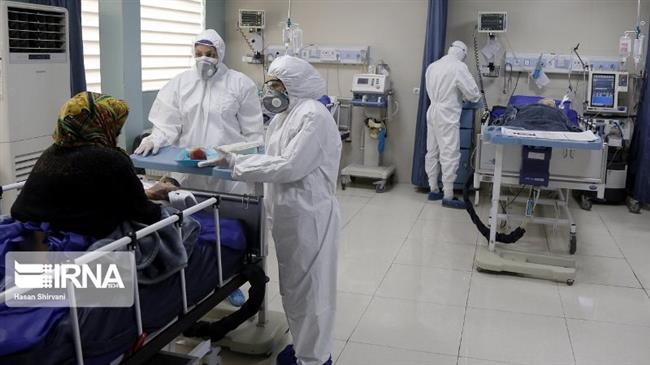 During a phone conversation with his French counterpart Jean-Yves Le Drian, Pakistani Foreign Minister Shah Mahmood Qureshi said Iran is in serious trouble in its battle to contain the outbreak due to Washington's economic sanctions, according to a statement issued Tuesday by the Pakistani Foreign Ministry.
The widespread outbreak of COVID-19 in Iran is very worrying as sanctions have seriously hindered the country's efforts to rein in the highly-contagious virus, he said.
Qureshi said COVID-19 has spread to almost all countries and that dealing with the situation requires a coordinated global approach.
The economic sanctions against Iran need to be removed immediately so that Iran could have access to its resources to combat the disease, he said.
COVID-19 crisis: Global outcry rises over US sanctions against Iran Pakistan
The Pakistani top diplomat also stressed the need for offering humanitarian assistance to Iran, the statement said.
Le Drian, in turn, said the coronavirus outbreak is a global challenge and collective cooperation is required to fight the virus.
He said that the issue of the removal of anti-Iran sanctions would be discussed in the upcoming summit of the Group of Seven nations, known as G7.
'EU should act against US bans'
Also in a Monday letter to EU Foreign Policy Chief JosepBorrell, Qureshi called for an immediate removal of US sanctions against Iran.
Because of the sanctions, he said, Iran is facing serious restrictions in its efforts to curtain the spread of the virus.
The top diplomat said that the international community, particularly the Europeans, should take immediate action to help Iran.
In separate phone conversations with counterparts from Nepal, Sri Lanka and the Maldives, Qureshi explained how anti-Iran sanctions had made it difficult for the Islamic Republic to tackle the outbreak.
China: US sanctions taking toll on ordinary Iranians
Meanwhile, in a tweet on Monday, China's UN envoy slammed the US sanctions against Iran, saying the restrictions are harming ordinary Iranians as Tehran is engaged in a diligent fight against the deadly virus.
"Iranian people are suffering severely from the pandemic. The unilateral sanctions made the situation even worse," said Zhang Jun.
US must life 'immoral' sanctions on Iran as they hamper battle against coronavirus: ChinaChina says the unilateral US sanctions will further hamper Iran
In May 2018, US President Donald Trump unilaterally abandoned Iran's 2015 nuclear deal it signed with the world powers and reinstated the anti-Iran sanctions, which had been lifted by the accord.
Under Washington's pressure, the three European signatories to the JCPOA—Britain, Germany and France — have so far failed to fulfill their contractual obligations to protect Tehran's business interests against the sanctions.