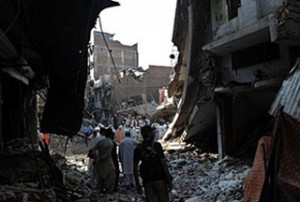 At least five people have been killed and 49 others wounded in a blast outside a court building in Pakistan's northwest city of Peshawar.
The explosion occurred Monday following recent attacks in Peshawar that lies on the edge of Pakistan's lawless tribal belt.
Senior police official Mohammad Karim Khan confirmed the casualties to AFP.
The cause of the blast was yet to be determined, Khan added.
Earlier on Saturday, an explosion in Peshawar left four people dead.
Hundreds have lost their lives in a series of terrorist attacks in Pakistan beginning in October when the Pakistani army launched an offensive against militants in the northwest.