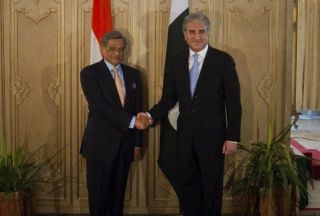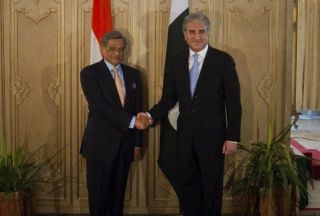 Pakistani Foreign ministers Shah Mehmood Qureshi and his Indian counterpart S.M Krishna have held talks in Islamabad to resume peace process.
The meeting between the two top diplomats was the culmination of a series of meetings since February that have aimed to restore relations between the two nuclear-armed neighbors.
India suspended an earlier peace initiative following the 2008 attacks on Mumbai by Pakistani gunmen that left more than 160 people dead.
Prime ministers of the two countries met in April on the sidelines of a regional summit in Bhutan.
The meeting set in motion the process of reviving suspended contacts at different levels of government.
Pakistan foreign ministry Spokesman Abdul Basit said that "dramatic results could not be expected in one meeting".
"But it will be a great success if we agreed on the engagement process," he said.
India blamed the 2008 Mumbai attack on a Pakistan-based militant group. New Delhi has often blamed Pakistan's Inter-Services Intelligence for aiding terrorist groups in India. Islamabad has denied the charges.
The neighboring rivals have a history of mistrust and have fought three wars since their independence from Britain in 1947.