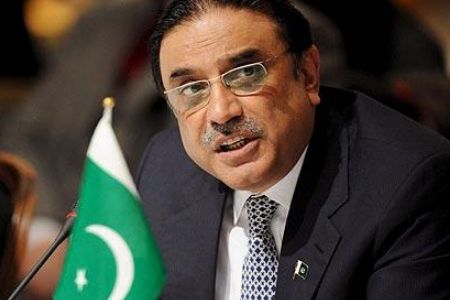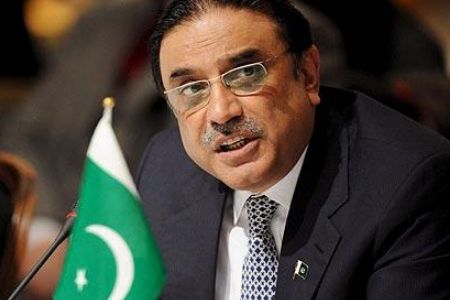 Pakistani President Asif Ali Zardari says Islamabad will never allow terrorists to use the country as a launch pad for attacking the Islamic Republic.
The government of Pakistan will never allow the terrorists to use Pakistani soil to launch terrorist attacks on Iran, Zardari said on Thursday.
The remarks were made during a meeting with visiting Iranian Interior Minister Mostafa Mohammad-Najjar on the sidelines of trilateral anti-narcotics summit with Afghanistan on Thursday.
Zardari also expressed his gratitude to the Iranian government and nation for their aid to Pakistan's flood victims, IRIB reported.
Mohammad-Najjar relayed Iranian President Mahmoud Ahmadinejad's message to Zardari and announced Tehran's readiness to dispatch more humanitarian aid for the displaced people of Pakistan.
The floods — the worst in Pakistan's recorded history — started in July, caused by heavy torrential monsoon rains, and claimed lives of more than 1, 700 people and left five million people homeless.
Iran was among the first countries to send aid to Pakistan and has announced its readiness to participate in reconstructing the country's flood-ravaged regions.
More than 150 Iranian rescue workers have helped Pakistan's flood victims and nearly 100,000 flood-stricken Pakistanis have been sheltered in 14,000 tents set up by the Iranian Red Crescent Society.
Iran's last relief convoy to Pakistan consisted of 2,700 tons of goods carried by 150 trucks.
Mohammad-Najjar arrived in Pakistan's capital of Islamabad on Wednesday to attend the 4th trilateral summit of Iranian, Pakistani and Afghan ministers aimed at fighting drug trafficking.
Iran was the initiator of the trilateral summit and the first such meeting was hosted by Tehran last year.
Iranian Foreign Minister Manouchehr Mottaki also announced earlier this month that Tehran is ready to host a three-way counterterrorism summit with Pakistan and Afghanistan on fighting terrorism in the region.