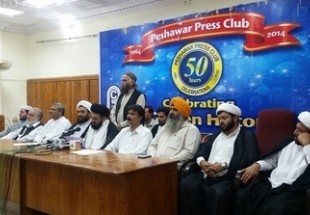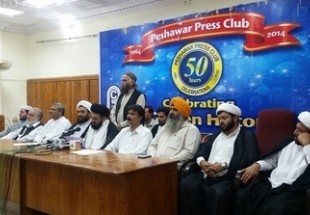 Speaking at a news conference at press club in Peshawar city of Pakistan on Monday, Allama Jawad Hadi, from Shia community has highlighted the significance of the holy month of Muharram-ul-Haram, which gave a message of tolerance, unity, and peace. He, especially mentioned the country is being faced with internal and external threats by anti-state elements, which should be eliminated by forging unity among their ranks.
Leader of Shia Ulema Council, Allama Hamid Emami, Allama Hassan Kararvi, Allama Irshad Hussain Khalili, Allama Nazir Hussain, Maulana Iqbal Haideri from JUI, Bishop of Peshawar Sarfaraz Humphrey Peter, Sarabdiyal of Hindu and Radish Tony from Sikh communities were present during the press conference.
According to Daily times, Allama Hadi urged the people belonging to different religions and sects to promote unity, and brotherhood during the Muharram, to defeat the nefarious designs of the enemies of the country. He expressed strong desire to promote interfaith harmony and assured the administration to extend full cooperation to maintain law and order during the entire month of Muharram.
Haroon Sarabdiyal has expressed reservations over the poor security arrangements for the community across the province. He asked the provincial government to take tangible steps for protection of minorities communities.
Sarfaraz Humphrey stressed the need of interfaith harmony, unity and tranquility among all religions and sects. He voiced concern over non-implementation of directives of superior judiciary to ensure protection of minorities' community in the province. He asked the provincial government to take serious measures for safety and security of Muslims and minorities' community.
Allama Hamid Emami has expressed satisfaction regarding overall security arrangements for protection of mourning processions during the Muharram. However, he said that no restriction and limiting movement of Azadari of Muharram would be accepted. He said the Azadari (mourning) is a worship, which should not be curtailed. He urged the people to fully participate in the processions of Muharram.
Radish Tony has disagreed with concerns of Shia leaders regarding limitations of Azadari (mourning) processions. He said that if any mishap was occurred during the holy month, which will be disgraceful for the country, so who will be responsible from that, he asked. Therefore, he urged the Shia community to keep limitations during Azadari processions in Muharram, to avoid any untoward incident on the occasion. He also showed full solidarity with Pakistan armed forces and vowed to unite against the any kind of aggression and threats to the country.
Maulana Iqbal Haidderi has expressed over concerns over unprecedented security measures and entry ban of ulema and people from other religions from participating in their programs in connection with Muharram.
He called for sectarian harmony and peaceful coexistence among all religious, and to avoid from any step which could create differences among people belonging to different religions. Maintaining peace throughout the country is a responsibility every citizen must shoulder, he said.
Allama Irshad Husssain said those people were created differences among various religious and sects, which must be exposed. He said the promotion of interfaith harmony was dire need of the hours.