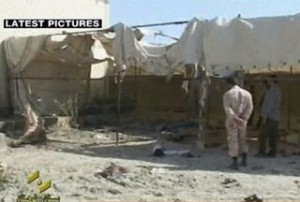 An Iranian lawmaker says there are reports that Pakistan's intelligence agencies have supported the terrorists that carried out a recent terror attack in southeastern Iran.
Ali Aqazadeh, who was a member of a parliamentary delegation visiting Sistan-Balouchestan Province following the Sunday attack in Pishin, stated that officials in the province believe that bandits and terrorists in the province are supported by "Pakistan's intelligence services," Mehr news agency reported on Wednesday.
Over 40 people, including some senior military officials, were killed in the attack.
He noted that the delegation will brief the National Security Committee of the parliament on the latest reports about the terrorist attack.
"According to the Sistan-Balouchestan officials, terrorists are backed by Pakistan's intelligence services and some non-regional powers also support them," Mehr news agency quoted Aqazadeh as saying on Wednesday.
"Israel and Britain also train the bandits [in Sistan-Balouchestan] in order to use them for destabilizing the region," he said.