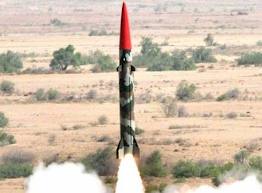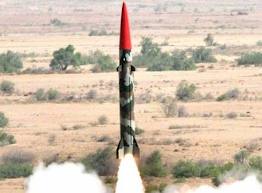 Pakistan says its army has successfully test-fired a missile capable of carrying nuclear warheads with a range of more than a thousand kilometers.
The military said in a statement on Wednesday that the Ghauri Ballistic missile can carry both conventional and nuclear warheads up to a distance of 1,300 kilometers (807 miles).
"The training launch of the Ghauri missile system was aimed at testing operational and technical readiness," the statement read.
President Mamnoon Hussain and Prime Minister Nawaz Sharif congratulated authorities involved in the test-fire operation for the success.
On March 9, Islamabad test-fired a surface-to-surface nuclear-capable Shaheen III missile with a range of 2,750 kilometers (1,708 miles).
Pakistan says nuclear deterrence is the basis of its security policy and that Islamabad has no intention to utilize the missiles on an aggressive dimension.
Commentators say Pakistan carries out routine test-fires to match similar operations by India.
On January 31, New Delhi test-fired its longest-range nuclear-capable ballistic missile with the capacity to strike Europe. The 17-meter-long intercontinental ballistic missile has a range of more than 5,000 kilometers (3,100 miles).
India and Pakistan have routinely conducted missile tests since both demonstrated nuclear weapons capability in 1998. The two neighbors have engaged in an arms race since the partition of Pakistan from India in 1947.
Both neighbors have refused to sign the Non-Proliferation Treaty (NPT) and other international regulatory pacts that restrict developing or testing nuclear weapons.
India considers the NPT as discriminatory, while Pakistan has indicated that it will not join the international treaty until its neighbor does so.