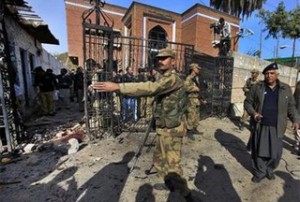 A bomb attack on Friday targeted the venue of a volleyball game in the strife-torn northwestern Pakistan, killing at least 88 people and wounding several others.
The blast targeted a local volleyball game in the Shah Hasan Khan Village in the North West Frontier Province's (NWFP) Banu district, Reuters reported.
"There's a lot of damage. Roofs of nearby houses collapsed. There could be high casualties," said police official Habibullah Khan. "There was a match between two village teams and a lot of people were watching it."
District police chief Mohammad Ayub Khan told AFP that law enforcement agents were rescuing people from the debris.
Islamabad has launched major offensives in the Swat valley in the NWFP as well as the neighboring South Waziristan under pressure from the US, whose large-scale military presence in Afghanistan is blamed to have sent the militants across the border into Pakistan.