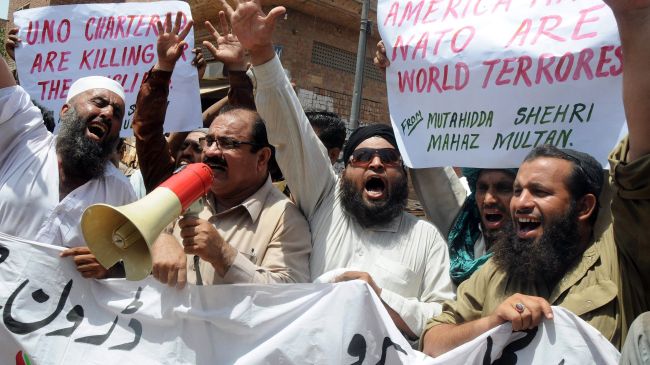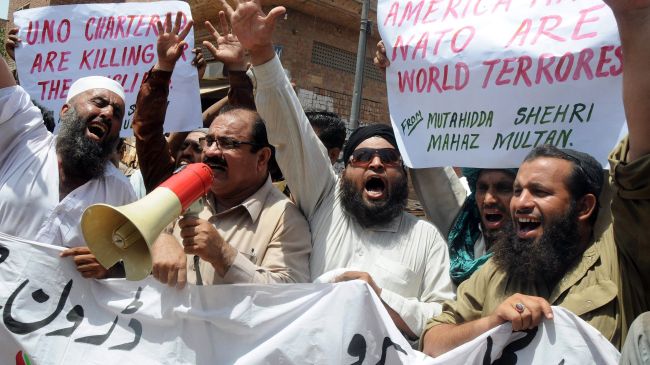 Pakistani protesters have staged rallies in the northwestern city of Peshawar against the increasing US assassination drone attacks in their country's tribal regions, Press TV reports.
Chanting anti-US slogans, the angry protesters on Friday slammed the US intervention in their country and condemned Islamabad's cooperation with Washington in the so-called war on terror.
The rally was organized by a council of dozens of political and religious parties of the country with their members calling on the government to put an end to its alliance with the United States in the US-led war.
The protesters further denounced the possible reopening of NATO supply routes to Afghanistan, where US-led forces are being stationed.
"We are strongly opposed to the US putting pressure on Pakistan for resuming NATO supplies and we will we never tolerate such (a) move," a protester at the rally said.
Pakistan blocked the key NATO supply lines after US airstrikes killed at least 24 soldiers in two military posts on the Afghan border last November.
In March, Pakistan's Parliament agreed to reopen the supply lines on the condition that Washington apologizes for the November air strikes and ends the assassination drone attacks on its soil which Islamabad has termed as unlawful and a violation of the country's sovereignty.
However, the US authorities said Washington will continue its attacks in Pakistan's northwestern tribal belt despite Islamabad's repeated protests over the attacks.
This is while, Pakistani Foreign Minister Hina Rabbani Khar on Thursday renewed calls on the US to apologize for the killing of Pakistani soldiers, saying Islamabad will not consider reopening the border crossings.
Khar said the country will keep the crossings closed unless the US makes an unconditional apology for the attacks and reassures Pakistan that such incidents will never happen again.