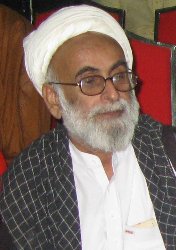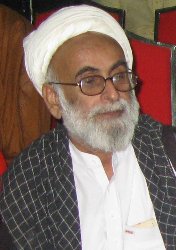 Pakistani religious scholar has stressed the need for the Muslim communities to sink their differences and unite against enemies of Islam.
Allama Haider Ali Jawadi criticized arrival of foreign troops in Bahrain to assist the crackdown on demonstrators demanding ouster of their despotic ruler.
After popular revolutions in Tunisia and then Egypt that toppled the two countries' decades-long rulers, massive anti-government protests started in Bahrain, Yemen, Libya and another regional countries.
In Bahrain which is home to U.S. Navy's fifth fleet, several people have lost their lives so far and hundreds of others have sustained injuries following the violent crackdown on protesters.
Allama Haider Ali Jawadi said that the U.S. and the whole of the west should respect the fundamental rights of people of Bahrain.
He said that U.S. is trying to light the fire of sectarianism in Muslim countries to divide Ummah. "I assure you that there is no issue of sectarianism in Islamic countries."
The religious scholar believed that every effort to hijack glorious popular movements in the Muslim world would fail. He pointed out that U.S. is implanting agents to spoil the uprisings.
"We must raise voice against imperialist forces," he stressed. Allama Haider Ali Jawadi stated that the western countries have started an anti-Islam war.
He regretted that some Muslim countries are helping the imperialist forces in accomplishing their designs against Islam.
Abid Hussein, in charge of Majlis-e Wahdat-e Muslimeen (MWM) media cell, expressing his views said Muslim Ummah cannot be divided by cheap tricks. He said that movements in Arab world would succeed despite western conspiracies.
He also condemned the role of western media for distorting the facts about uprisings in Muslim world. "They want to sabotage these popular uprisings," he said.
Commenting on the situation in Bahrain Abid Hussein said that morale of the people is high despite violent crackdowns. "We must condemn gross human rights violation in Bahrain."
He was of the view that ongoing developments in the crisis-hit Middle East are the beginning of a 'new era' in the region.
Abid Hussein also called for forging unity among Muslim world to encounter conspiracies against Islam.