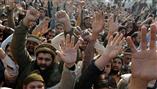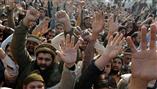 Jamiat Talaba-e-Islam, the student wing of Pakistan's largest religious party Jamat-e-Islami took to the streets of Lahore to vent their anger against Charlie Hebdo magazine.
Protestors marched through the main Mall road of Lahore and staged their protest outside the Punjab Provincial Assembly, slamming the west for using deliberate actions to inflame anger among the Muslims.
Party leaders said, these evil attempts will not be tolerated and that the unity of Muslims will crush west's agendas.
The protestors chanted anti-West slogans and demanded the Muslim world to join together and raise this issue at the highest levels.
Analyst said such actions targeting a group of people's faith should not be sheltered under freedom of speech and that the boundaries need to be defined.
Pakitanis have been on the streets since Charlie Hebdo released its new edition with Prophet Muhammad's cartoon on its front page. They have vowed to continue their protests until a serious action is taken against Charlie Hebdo.
A series of anti-Western protests have hit the streets of Pakistan after Charlie Hebdo's attempt to ridicule Islam and Prophet Muhammad. Protestors say they will not allow anyone to drive anti-Islam agenda ahead under the disguise of freedom of speech and expression.