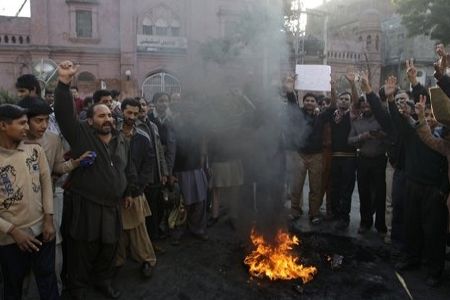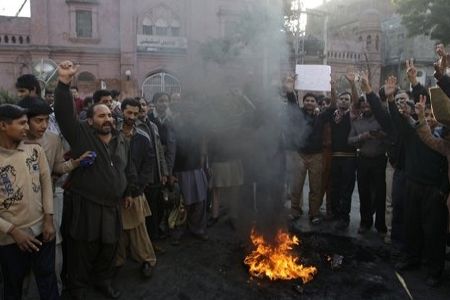 Hundreds of Pakistani demonstrators have staged protests in the eastern city of Lahore, demanding the execution of a US consulate official who shot two Pakistanis to death.
The angry protestors on Sunday warned the Pakistani government not to give in to Washington's pressure to release the man.
The US consulate employee known as Raymond Davis was arrested after shooting dead two Pakistanis in the city of Lahore on Friday.
Pakistan's police say the arrested US official was carrying a Beretta pistol illegally.
The United States says the American fired his gun in self-defense when he shot the two men as they approached his car to rob him at gunpoint, urging Islamabad to release the arrested official.
The US government claims that the American has diplomatic immunity, but the Pakistani police reject the claim, saying Davis has no diplomatic status and was not allowed to carry firearms.
"We warn the government and administration that … if they help the arrested American illegally, then this crowd will surround the US Embassy and presidential palace in Islamabad," Hafiz Hussain Ahmed, a senior official in the Jamiat Ulema Islamic party, said during the demonstration Sunday.
There were between 15,000 and 20,000 people at the rally in the centre of the city, Lahore police chief Aslam Tareen said.
A judge has ordered that Davis remain in prison until next week while police investigates the shooting.
The killing comes as anti-American sentiments are running high in the country.