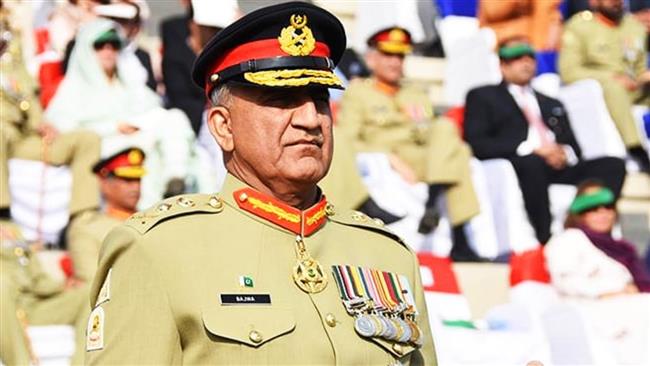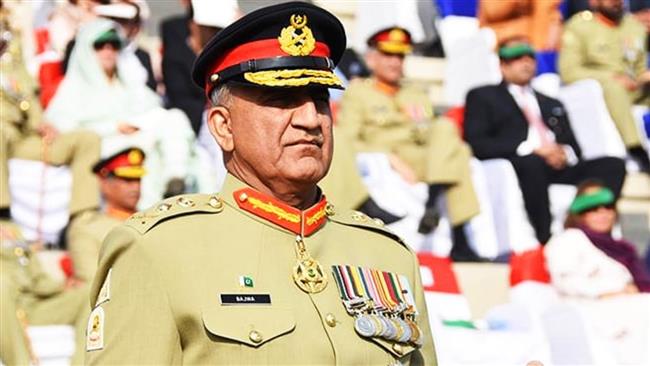 Pakistan's Chief of Army Staff General Qamar Javed Bajwa is in Tehran at the head of a delegation of ranking military officials for talks with his Iranian counterpart and other officials.
He met Chairman of the Chiefs of Staff of the Iranian Armed Forces Major General Mohammad Baqeri after an official reception ceremony held in his honor on Monday.
The IRNA news agency said they stressed the need for the two neighbors "to develop defense and security relations toward solving common problems, especially recognizing and fighting  grounds for the spread of terrorism on their borders."
They also laid emphasis on the need for expanding security and defense relations in the fields of industry, research and education, the report added.
Baqeri and Bajwa also touched on historical, religious, and cultural commonalities of the two countries, saying they should utilize the capacities in international and regional arenas and use their  defense and political capabilities to solve regional problems as two great and powerful countries of the region without the meddling of outside powers.
Bajwa's visit is focused on enhancing the level of defense and security interaction between the two countries and discussing other issues of common interest.
Iranian Foreign Minister Mohammad Javad Zarif traveled to Pakistan in May and the countries agreed to increase cooperation towards boosting security in their border areas by setting up a joint security committee.
The visit at the head of a high-ranking political, military, law enforcement, and security delegation came a month after 10 Iranian border guards were killed and two others injured in an ambush near the town of Mirjaveh in the southeastern Iranian province of Sistan and Baluchestan.
The Iranian foreign minister is in Islamabad for talks on border security after the massacre of 10 Iranian border guards by Pakistan-based terrorists.
The so-called Jaish ul-Adl terrorist group claimed responsibility for the attack, which had been launched from the Pakistani soil. The assailants escaped into the Pakistani territory immediately after the attack.
Shortly after the attack, Iranian President Hassan Rouhani wrote to Pakistani Prime Minister Nawaz Sharif, calling for the perpetrators to be brought to justice. Former Defense Minister Brigadier General Hossein Dehqan also said the Islamic Republic reserved the right to give a crushing response to the terrorist crime.