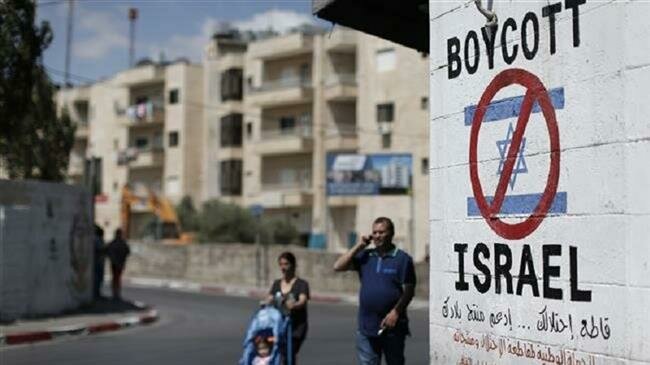 "Israel continues to impose its wishes on the representatives of the European peoples by blackmailing them using the historical German stigmatization of the Jews to achieve what it wants," the ministry said in a statement on Sunday.
The ministry said the decision disregarded the fact that "Israel is an outlawed entity which commits crimes against the Palestinian people and occupies the Palestinian land while going unpunished."
Elsewhere in the statement, the ministry said Israel and its supporters were looking for a pretext to distort or damage the image of the pro-Palestinian movement due to its prominent role on the world stage.
A cross-party alliance in the German parliament Bundestag on Friday voted to condemn as "anti-Semitic" the BDS movement, which calls for economic pressure on Israel to end the occupation of Palestine's territories.
Palestinian BDS founder denied entry to USA prominent Palestinian human rights activist and co-founder of the Boycott, Divestment, Sanctions (BDS) movement against Israel has been denied entry to the US despite holding valid travel documents.
In a move welcomed by the Tel Aviv regime, the majority of German lawmakers in the Bundestag voted in favor of a motion that accuses the BDS of using anti-Semitic tactics to fulfill its political goals.
The resolution was submitted by German Chancellor Angela Merkel's fellow-conservatives, their Social Democrat coalition partners, as well as the Greens and Free Democrats.
The vote was denounced by the BDS as anti-Palestinian.
There were other critics, too. An open letter signed by 60 Israeli academics criticized the Bundestag motion, saying it formed part of an alarming trend of "labeling supporters of Palestinian human rights as anti-Semitic."
BDS launches global campaign to boycott PumaThe Boycott, Divestment, Sanctions (BDS) movement has launched a global campaign to boycott German sportswear manufacturer Puma because of its support for the Israel Football Association.
The BDS movement was initiated in 2005 by over 170 Palestinian organizations and later turned international. It is meant to initiate "various forms of boycott against Israel until it meets its obligations under international law" and end its occupation of Palestinian lands.
BDS, which was inspired by the South African anti-apartheid movement, has claimed several recent successes in isolating Israel.
Israel and its allies in Washington have long railed against the BDS, which calls for people and groups across the world to cut economic, cultural and academic ties to Tel Aviv.