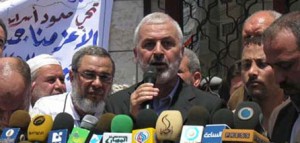 Palestinian justice minister Mohammed Al-Ghoul has said that the Palestinian people are entitled to resist the occupation of their land, and the government backs this right.
Ghoul on Sunday denied that his government had expressed regret for the death of Zionists.
He said that the Zionist occupation was responsible for the killing on both sides due to its cruel war on the Palestinian people. The Palestinians fire rocket only in self defense, he elaborated.
The minister said that the Goldstone report monitored 36 Zionist war crimes, noting that the judge, Richard Goldstone, had listened to clear and diversified testimonies of victims of the Zionist war to back his findings.