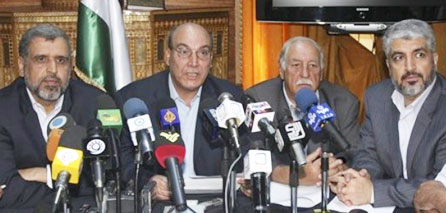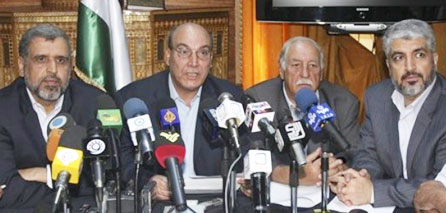 Eleven Palestinian resistance based in Syria warned on Sunday against a "concession and compromise" policy ahead of a possible round of direct talks between Israel and the Palestinian Authority.
The message from the Factions, which include Hamas as well as the Democratic Front for the Liberation of Palestine and the Popular Front for the Liberation of Palestine factions, appeared directed at Palestinian President Mahmoud Abbas.
Hamas politburo chief Khaled Meshal said Sunday that the factions' representatives issued the statement after discussions held at his house in the Syrian capital and that they rejected all forms of compromise with Israel.
"The U.S. and the Zionists were aiming to wipe out the national rights of the Palestinians and to cover up the practices of the occupation, settlement expansion and Judaizing the land," the statement said,