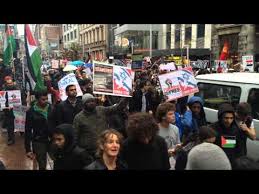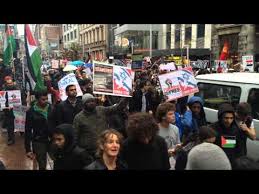 Demonstrators in New York City have marched across the iconic Brooklyn Bridge, chanting in support of the Palestinians and unfurling a giant Palestinian flag over the bridge.
Hundreds of people and civil rights activists on Wednesday chanted anti-Israeli slogans while crossing the Brooklyn Bridge on their way to Manhattan City Hall in a rally dubbed "March for Palestine."
They called for the expansion of the "Boycott, Divestment and Sanctions," a global campaign attempting to increase economic and political pressure on Israel to end its occupation and colonization of Palestinian land and respect for the right of return of Palestinian refugees.
The demonstrators also compared their pro-Palestinian protest to the Ferguson, Missouri protests over the shooting death of an African-American teen. They say resistance is justified in Gaza and Ferguson because the Palestinians in Gaza and black people in the US are both battling against abusive authorities.
There have been 12 nights of consecutive protests in the town of Ferguson since the August 9 shooting of Michael Brown by Ferguson police officer Darren Wilson.
"In the cases of brutality in Ferguson and in the case of Gaza, what you have is decades of anger from people who feel they are oppressed," said Josmar Trujillo, who spoke at the protest outside Manhattan's City Hall.
Several protests against Israel's military operation in Gaza have taken place in New York in recent weeks.
Last month, a demonstration near the Times Square drew the biggest number of participants estimated at around 2,500. The protesters called on the United States to stop assisting Israel.
A total of 2,061 Palestinian citizens have been killed in Gaza since Israel began its military operation on July 8. More than 10,200 Palestinians have also been injured.