Palestine
Palestinian Hero Khader Adnan in critical condition as he nears 40th day of hunger strike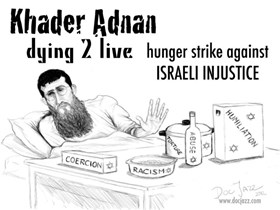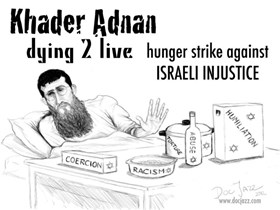 The health of the Palestinian administrative detainee Khader Adnan has reached critical condition as he entered his 39th day of hunger strike, the Palestinian Prisoners' Center for Studies said Friday.
Adnan, who staged one of the longest hunger strikes in history in 2012, is showing sharp weight loss, low heart rate, hypotension, and hypoglycemia as a result of his ongoing protest at being held in Israeli prison under administrative detention, with neither charge nor trial.
Hunger-striking Adnan has also become unable to stand on his feet on his own, the Prisoners' Center further reported.
Head of the center, Rafat Hamdouna, urged the human rights and civil institutions to mobilize mass support, nationwide and overseas, for Adnan's cause without further delay.
He further pushed for internationalizing the prisoners' cause and for saving Adnan's life before it is too late.
Prisoner Adnan, a father of six children, was detained by the Israeli occupation forces on July 8, 2014 and sentenced to administrative detention for the 10th time in his life.
Palestinians held in administrative detention can be incarcerated without charge or trial for months or years, and are denied access to the evidence that led to their detention.
Observers said the policy has been enacted excessively by the Israeli occupation authorities, in contravention to international and humanitarian laws which stipulate the practice be used only in extenuating circumstances.