Palestine
Palestinian Hero Khader Adnan's family slams PA's passive position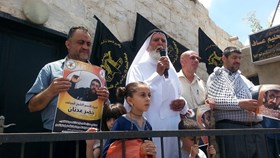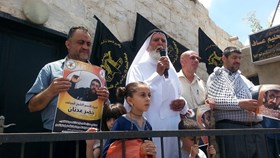 The hunger striker Khader Adnan's family criticized Friday the Palestinian Authority's passive position towards their son's issue, calling for saving the Palestinian prisoners' life.
During solidarity vigil with Khader Adnan organized in Jenin, hunger striker's father called on Arab leaders to intervene urgently to save prisoners' lives especially those who launched hunger strike.
Adnan's father strongly slammed the PA's continued silence and passive position towards the hunger strikers in Israeli jails, calling on Mahmoud Abbas to prosecute the occupation in international courts for committing war crimes against Palestinian prisoners.
For his part, head of the Palestinian Prisoners Society Ragheb Abu Dik said that Adnan's health condition is very critical as he suffers severe weight loss, frequent vomiting, and sharp pains all over his body.
In his turn, former minister Wasfi Qubaha stressed the need for forming a Palestinian national committee to activate prisoners' issue at local, regional, and international levels.
Following Friday prayers, dozens of Palestinians marched in Araba town in Jenin carrying Khader Adnan's photos and chanting slogans demanding his release.
Adnan has been on hunger strike for more than a month protesting against being inside Israeli prisons under the term of administrative detention.
He staged one of the longest hunger strikes in history in 2012. A father of six children, Adnan was arrested on July 8, 2014 and sentenced to administrative detention for the 10th time in his life.
Palestinians under administrative detention inside Israeli prisons are being held without charge or trial for months or years, and are denied access to the evidence that led to their detention.