Middle East
Palestine
Palestinian Journalists Syndicate urges boycott of zionist media outlets
The Palestinian Journalists Syndicate (PJS) has urged the press community to boycott Israeli media outlets against the backdrop of the free-to-air Channel 13 television network's airing a "distorted" report about Palestinians in the occupied West Bank.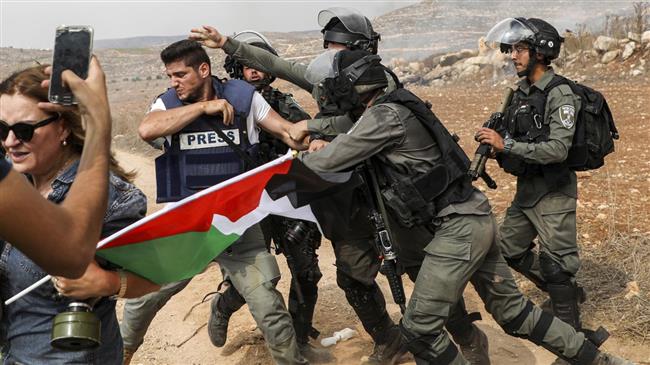 The PJS said in a statement on its Facebook page that the misleading report about nightlife in Ramallah and Bethlehem had been prepared by two correspondents of the channel, who are notoriously known for their implacable hostility toward Palestinians and their national cause, besides fabrication of lies and distortion of facts.
It urged Palestinians to perform their own duties and prevent "such dangerous distortions."
The syndicate said it had repeatedly called for the total boycott of Israeli reporters, who enter Palestinian territories as "occupiers" and "under the protection of Israeli occupation forces."
"Any treatment or meeting with the Israeli media, or offering logistic assistance for them during their entry to the Palestinian territories are considered a normalization crime which is nationally and popularly rejected," the statement read.
The PJS further highlighted that the "distorted" report overlooks the miserable life that Palestinians are enduring as a result of the Israeli regime's occupation, and portrays the owners of Palestinian restaurants, coffees shops and hotels who appear in it as "inferior."
"The report, as usual, does not reflect the reality on the ground, and stops short of exposing the consequences of the Israeli regime's crimes and occupation on the Palestinian economy."
"Palestinian journalists and media outlets are subjected to suppression, sometimes in front of Israeli journalists or with their support. The PJS considers any assistance to Israeli media and journalists an encouragement of such crimes. We will neither forgive nor show mercy to the Palestinians who cooperate with Israeli news outlets."
According to the Palestinian Center for Development and Media Freedoms (MADA), the Israeli military committed 34 violations against media freedom in October.
MADA announced in a report that the violations included the arrest, detention, summons of Palestinian journalists and closure of news institutions.
The report then pointed to assaults on 13 Palestinian journalists, their prevention to cover a peaceful march in the central West Bank city of Salfit, renewal of the closure order against Palestine TV office in Jerusalem al-Quds, detention of Palestinian journalist Bushra al-Tawil for the second time this year, as well as the injury of Hazem Badr and Amir Shaheen during the mentioned period.
More than 7,000 Palestinian prisoners are currently held in some 17 Israeli jails, with dozens of them serving multiple life sentences.