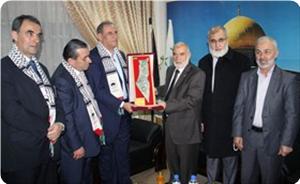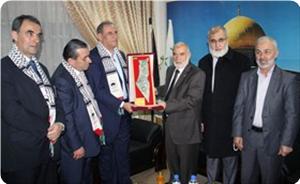 The first Deputy speaker of the Palestinian Legislative Council, Dr. Ahmed Bahar, received in his office a parliamentary delegation from Lebanon headed by Jamal al-Jarrah accompanied by many MPs who represent most of the blocs in the Lebanese parliament.
Bahr welcomed the visiting delegation, stressing that their visit reflects the support of the brotherly Lebanese people, with all its components, for the Palestinian people.
He hailed the Lebanese popular and official efforts to support the Palestinian cause over the past decades, noting that Lebanon was one of the first Arab countries that has hosted the Palestinian people and acted as advocates for Palestinians' positions in the international arena and in the different international forums.
The Palestinian MP said in a press conference, held immediately following the meeting with the Lebanese delegation, that the world is now proud of the resistance and its steadfastness during the recent Israeli aggression.
For his part; Jamal al-Jarrah, the head of the delegation and a representative of the al-Mostaqbal Movement, expressed his happiness to visit Palestine, and considered that the Israeli occupation's compliance with the terms of the resistance is a victory for Palestinians and a retreat in Israel's strategy.
Al-Jarrah also stressed on the solidarity of all the Lebanese parliamentary blocs and the Lebanese people with the Palestinians, their cause and their national constants and rights.