Palestinian MP Natshe released after 2 years of administrative detention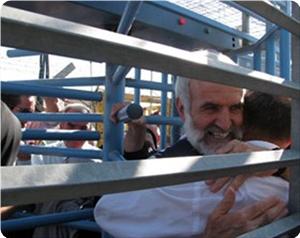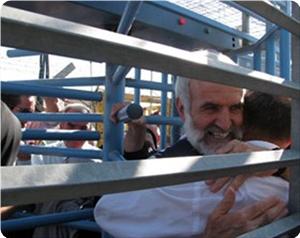 The Israeli occupation authorities have released the detained MP Sheikh Mohammed Jamal Natshe, 54 from the city of al-Khalil, after an administrative detention that lasted nearly two years.
The occupation authorities arrested the MP Natsheh on the 11th of January, 2011, just four months after his release from Israeli occupation jails after an earlier arrest that had lasted eight years and a half.
The masses, including Dr. Aziz Dweik speaker of the Legislative Council and a number of MPs for al-Khalil Governorate, Jerusalem, Ramallah and Tulkarem, gathered at the Beitunia checkpoint for the reception of the liberated MP Natsheh.
Hundreds of supporters of Hamas and leaders of several Palestinian factions have also taken part in the reception of Natsheh, roaming the city's streets and raising Hamas's green flags.
For his part; Dr. Aziz Dweik, the speaker of the Palestinian Legislative Council told PIC's reporter that "the release of MP Mohammed Jamal Natsheh is taking place in a sensitive and important period", adding that it represents a new victory achieved by the Palestinians and a new st